4 June 2021
Commodity food prices boil to a 10-year peak in May, echoing the Arab Spring

Hasnain Malik
Strategy & Head of Equity Research @ Tellimer Research
4 June 2021
Food prices up 40% since May 2020 trough, a similar increase to that seen prior to the Arab Spring of 2011
High household spend on and high imports of food in Bangladesh, Egypt, Jordan, Lebanon, Nigeria, Pakistan, Philippines
This implies a higher risk to inflation, fiscal spend (where governments subsidise), trade balance and social stability

4 June 2021
The latest UN FAO World Food Price index (published on 3 June) exhibited the fastest year-on-year and month-on-month increases for a decade, 40% and 5%, respectively. This move up over the last year is now of a similar magnitude to that seen prior to the Arab Spring of 2011, although yoy growth should decelerate with higher comparables following the May 2020 trough. The next update of this index is due on 8 July.
Policy makers, when determining interest rates, tend to focus on core inflation and treat some of the variation in food items as cyclical. However, for governments that subsidise food items, this food price spike creates fiscal stress and for countries reliant on food imports it drives a deterioration in the trade balance. Furthermore, for the mass, poorer segment of the population, food inflation is generally an acute concern – the 'Arab Spring' coincided with a c40% increase seen in 2010-11 – and this translates into risk for governments facing re-election or attempting to implement structural reforms that challenge vested interests.
Countries with both a high portion of household expenditure on food and a significant net import bill for food include Bangladesh, Pakistan and the Philippines in Asia, Egypt and Nigeria in Africa, and almost all of the Middle East (particularly, Jordan and Lebanon).
Food accounts for a large portion of household expenditure in countries such as Argentina, Ghana, Ivory Coast, Kazakhstan, Kenya, Morocco and Ukraine but, at the macroeconomic level, this is offset by net exports of food. That, of course, does not mitigate the risk of social unrest from the poorer segments of these countries if the bump in export revenues does not trickle down.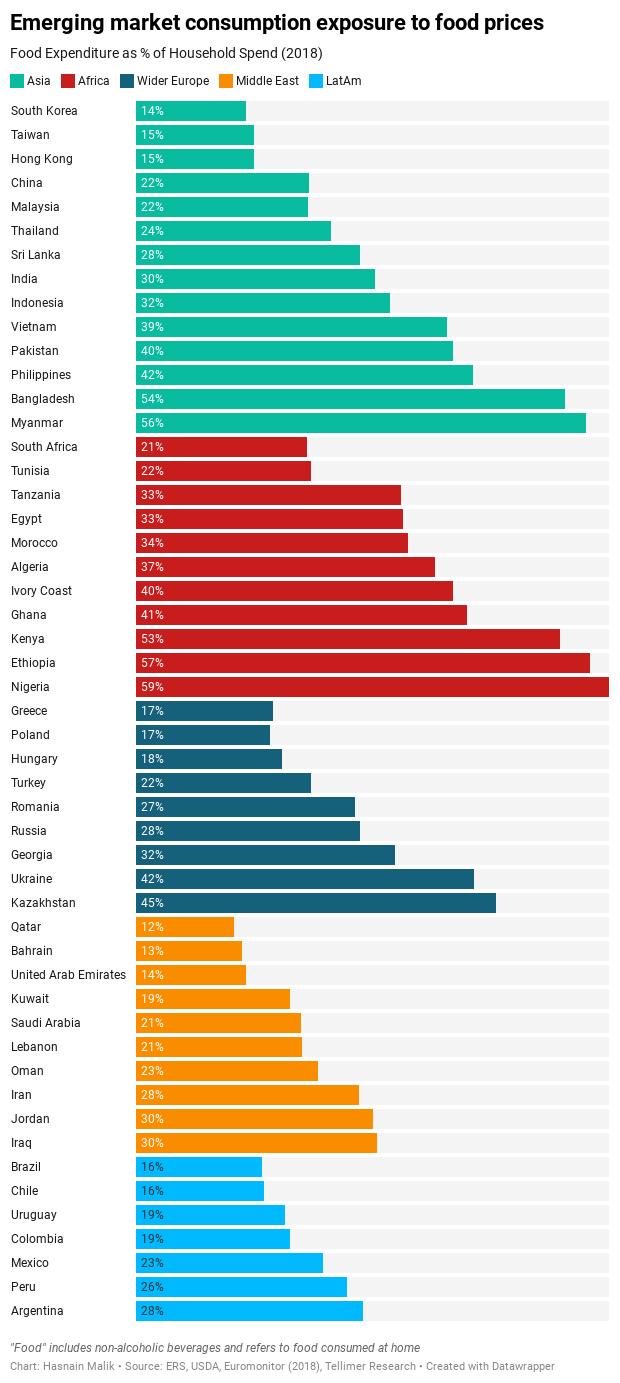 ---
Disclosures
This report is independent investment research as contemplated by COBS 12.2 of the FCA Handbook and is a research recommendation under COBS 12.4 of the FCA Handbook. Where it is not technically a res...
Full Tellimer disclaimers