In a blow to Colombia's traditional political elite, and strong signal of voters' desire for change, leftist Gustavo Petro will face populist outsider and businessman Rodolfo Hernández in a run-off on 19 June following Colombia's presidential election yesterday. The new president will take office on 7 August.
Election results
Results show Petro gained the most votes, although at 41% of the vote according to Bloomberg, he failed – as expected – to get the 50%+1 outright majority needed to avoid a run-off. The surprise however was the strength of support for Rodolfo Hernández, who after a last-minute surge according to polls, came second on 29% of the vote. Meanwhile, Federico Gutiérrez, the centre-right continuity candidate who was polling second until the end, was in third place with 24% of the vote. Sergio Fajardo came a distant fourth on 4%. The other two candidates (Rodriguez and Gomez) got 1.5% between them.
It doesn't look like the election will be challenged, despite the allegations of fraud surrounding the March legislative elections. According to reports, Gutiérrez has already announced his backing for Hernández ahead of the run-off vote.
The result is not unexpected, although Hernández's strong showing is a bit of surprise. Petro was widely anticipated to win, but not outright, so the election was always seen as going to a second round. It was just a question of who he would face, and the margin of victory. However, the election defied earlier expectations of a two-horse race between Petro and Gutiérrez after Hernández's late surge closed the gap with Gutiérrez, according to the most recent CNC poll on 19 May, and turned it into a three-horse race and a coin toss as to who Petro's opponent would be. But even then, Hernández was still in third, although statistically there was little between him and Gutiérrez. The surprise is not just that Hernández took second, but the size of his support. Hernández campaigned on an anti-corruption platform.
Hernández could even be more competitive against Petro in a second round. Heading into the second round, Hernández may have the momentum while Petro is stuck at something of a ceiling vote (around 40%). Indeed, the latest CNC poll (published 19 May) on second-round voting preferences even suggested that Petro and Hernández were statistically tied (40.5% each), in contrast to Petro's clear lead over Gutierrez (44.2% vs 34.9%). While a 12ppts deficit may sound too much to overturn, Hernández might also be expected to pick up Gutiérrez's share while the establishment vote may also rally around him merely to keep out Petro. Hernández may be seen as the lesser of two evils and someone the right can work with.
Conversely, Petro's struggles to grow his share of the vote may force him to moderate his message. While this might be welcome, investors may not trust him to deliver and, if he wins, it could complicate governance if his supporters feel he has sold out.
Divided Congress
However, whoever wins the presidency will face a split and fragmented Congress, which could complicate decision making and governance. The traditional centre-right parties (with the support of the left-leaning Liberal party) still enjoy a majority in both houses – the Senate and lower house (House of Representatives) – after March's legislative elections, and could seek to obstruct Petro's legislative agenda if he wins. These parties have about 60 seats (56% of the total) in the Senate and 89 seats (excluding others and independents) in the lower house (52% of the total).
However, a split in the Liberal party could test this majority in the lower house after reports that 15 of its lawmakers defied the party's support for Gutiérrez in favour of Petro. If confirmed, and with the help of other minority parties and independents, if Petro wins, his Historic Pact party could muster enough support to form the largest coalition in the lower house, and even help it to secure a majority.
Conversely, Hernández – running as an independent – doesn't have any party in Congress. He would have to rely on centre-right alliances to get anything done.
Fixed income implications
We do not have a recommendation on Colombian bonds currently.
The yield on the COLOM '32s is 6.0%, with a z-spread of 340bps (and a cash price of cUS$80) as of cob 27 May (on a mid-price basis on Bloomberg). The yield has widened by c150bps this year, although it has also narrowed some 80bps from its highs earlier this month (the yield hit 6.8%) and by 50bps (price +4pts) just in the past week (due to the general market rally and perhaps Hernández's stronger showing in the polls).
Valuations may begin to look attractive for Colombian bonds (Baa2/BB+/BB+) as ability and willingness to pay are both strong, supported by a strong macroeconomic policy framework, but we think investors may defer decisions pending the outcome of the run-off vote with risks skewed to the downside. We see sizeable downside if Petro wins and only modest upside upon a Hernández victory.
That said, and in a stark change of events, we think the chances of Petro's defeat, and Hernández's victory, may be greater now, given Hernández's strong showing and the chances for tactical voting. This may help catalyse a relief rally in the coming days, although there is still much that is unknown over what a Hernández presidency would look like, in terms of policies and how he will be able to govern, which could cap upside.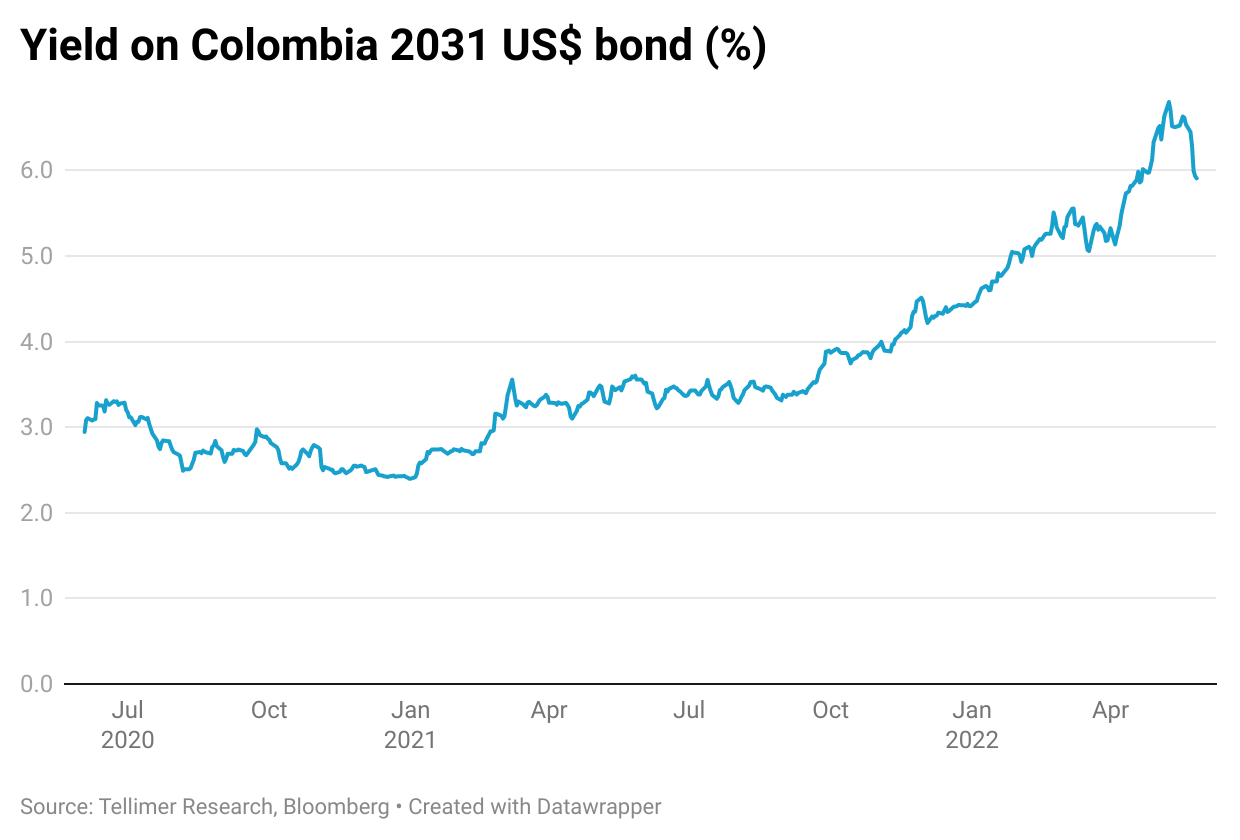 Equity implications
Colombia is the cheapest oil exporter equity in EM equities
Colombia equities (IEQC index) are up 12%, in total US$ return terms ytd, below the best-performing regional peers, Chile (up 29%) and Brazil (up 25%), but more in line with the best-performing global EM oil exporter peers, Saudi (up 16%) and Kuwait (up 14%).
Trailing PB of 1.0x (for 11% ROE) is a 12% discount to the 5-year median. This is a similar discount to that seen across LatAm peers. But Colombia's FX rate is arguably cheaper than these peers; should REER return to its 10-year median, then there is 20% upside in the peso. Compared to oil exporter peers in EM, Colombia appears much cheaper.
Of course, there are concerns about a tilt left in economic policy, notwithstanding the challenge that has emerged from Hernandez, should he unite the centrist and rightist electorate, and the fragmented Congress through which Petro may struggle to pass radical legislation. But Colombia valuation arguably already compensates for this, particularly in comparison with the oil exporter peer group.