China growth is decelerating but this is no surprise and is not actually as sharp as feared, with Q4 2021 GDP up 4% yoy, compared with the 3.6% consensus forecast, according to the latest release earlier today.
An export demand recovery is helping industrial manufacturing but zero-Covid lockdowns and property sector distress is hurting consumption and new investment.
Critically, the deceleration is prompting policy stimulus. The central bank's one-year interest rate (on medium-term lending facilities that the government extends to banks) was cut by 10bps today, for the first time since Q1 20.
There is plenty of room for monetary and fiscal stimulus, unlike in many other parts of emerging or developed markets. For example, the real interest rate is still positive (1.4%) and gross government debt is merely 70% of GDP.
Furthermore, acute FX rate sensitivity to any stimulus measures, common in most of EM, is lacking, given the current account balance is in surplus (1.5% in 2022, according to IMF forecasts) and FX reserves import cover is over 14 months.
Risk-reward in China equities looks attractive this year in the context of:
Ample room for policy to counter slowing growth;
Many disruptive risks now more widely appreciated, eg

Valuation close to or at a discount to the historical average (depending on which variable and which index is used); and

China is still under-represented in global equity indices.
Below, we present 10 charts to illustrate this.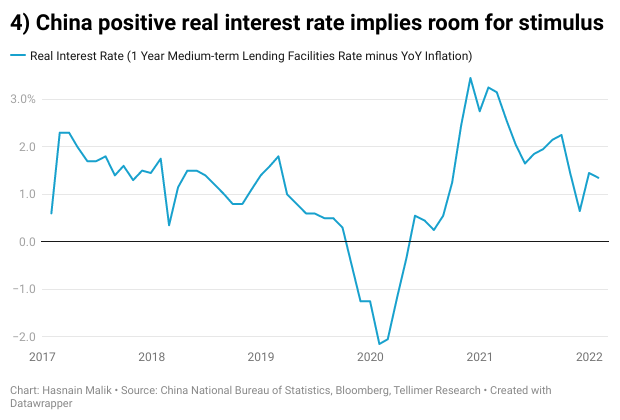 Related reading
2022 EM equity strategy: Passive index tracking is not the answer, January 2022
China conundrum: Foreign inflows despite all the bad news, September 2021