The TRY has depreciated c18% ytd and c5% over the past two weeks vs. the US$, a throwback to the 2018 currency crisis (which saw it sell off by c30% in the first 2 weeks of August) and worst among all major EMs this year excluding the BRL, ZAR and ARS.
Following our note last week analysing Turkey's corporate bond sell-off (see here) and yesterday's decision by the CBRT to leave its policy rate unchanged "while continuing with liquidity measures" (see here), this note will illustrate how Turkey got here and dissect the macro implications via a series of charts.
How did we get here?
Leading up to Turkey's 2018 currency crisis, Turkey was pursuing a growth model reliant on excessive externally funded credit stimulus which pushed growth above potential, fuelled inflation, and created large external imbalances.
This was exacerbated by a combination of domestic and external shocks, with President Erdogan in the process of consolidating power following a 2016 coup attempt and pushing for higher growth ahead of mid-2018 elections, deteriorating US relations and sanctions, and a broader EM currency crisis as widening current account deficits came into focus.
Concerns over CBRT independence arose in May 2018 when Erdogan said that he would exert greater control over monetary policy after elections, which put the TRY further in the firing line and triggered a c30% depreciation over the course of 2018.
The crisis led to an equally sharp external rebalancing, with the CBRT hiking its policy rate from 8% to 24% over the following year and TRY depreciation prompting a c21% contraction of imports and a more modest c4% expansion of exports (with structural constraints preventing a more meaningful increase – see the latest IMF AIV) over the 12 months to mid-2019.
Alongside a growth contraction of 1.2% yoy, the current account adjusted from a 5.7% of GDP deficit in the 12 months through mid-2018 to a 1.5% surplus in the 12 months through mid-2019.
Since mid-2019, however, the Turkey's credit-fuelled growth model has been revived. Persistent calls by Erdogan for lower interest rates, alongside poor performance for the ruling AKP in Istanbul's 2019 mayoral elections, prompted Erdogan to replace CBRT Governor Murat Cetinkaya with his more pliant deputy Murat Uysal in July 2019.
This has since cleared the way for 1,575bps of rate cuts, pushing inflation to 11.8% yoy in July and the real policy rate into significantly negative territory (at -3.5% it is the lowest among major EMs).
Credit growth and money supply expansion have again accelerated to unsustainable levels, with the IMF estimating a "credit gap" of roughly 15% of GDP.
The resulting construction boom and low mortgage costs have led to a spike in house sales and prices, which have increased by 49% yoy and 19% yoy so far this year, respectively.
Much of the credit boom has been driven by state-owned banks and funded with FX deposits, creating a large currency mismatch on banks' balance sheets.
Rapid credit growth caused imports to expand by c10% yoy in the six months through March while exports remained stagnant, causing the current account to swing from a 1.4% of GDP surplus in Q1 19 to a 2.4% of GDP deficit in Q1 20.
With the arrival of Covid-19, the deterioration accelerated, with an export contraction of c20% yoy from March to July outweighing an c11% yoy drop in imports, and collapsing tourism revenue (which totalled US$34.5bn in 2020, or 4.6% of GDP) reducing the services surplus to zero.
Alongside the deteriorating current account, foreign investor sentiment has soured. Non-resident capital outflows have reached US$13.4bn ytd, comprising US$8bn of bonds and US$5.4bn of equity.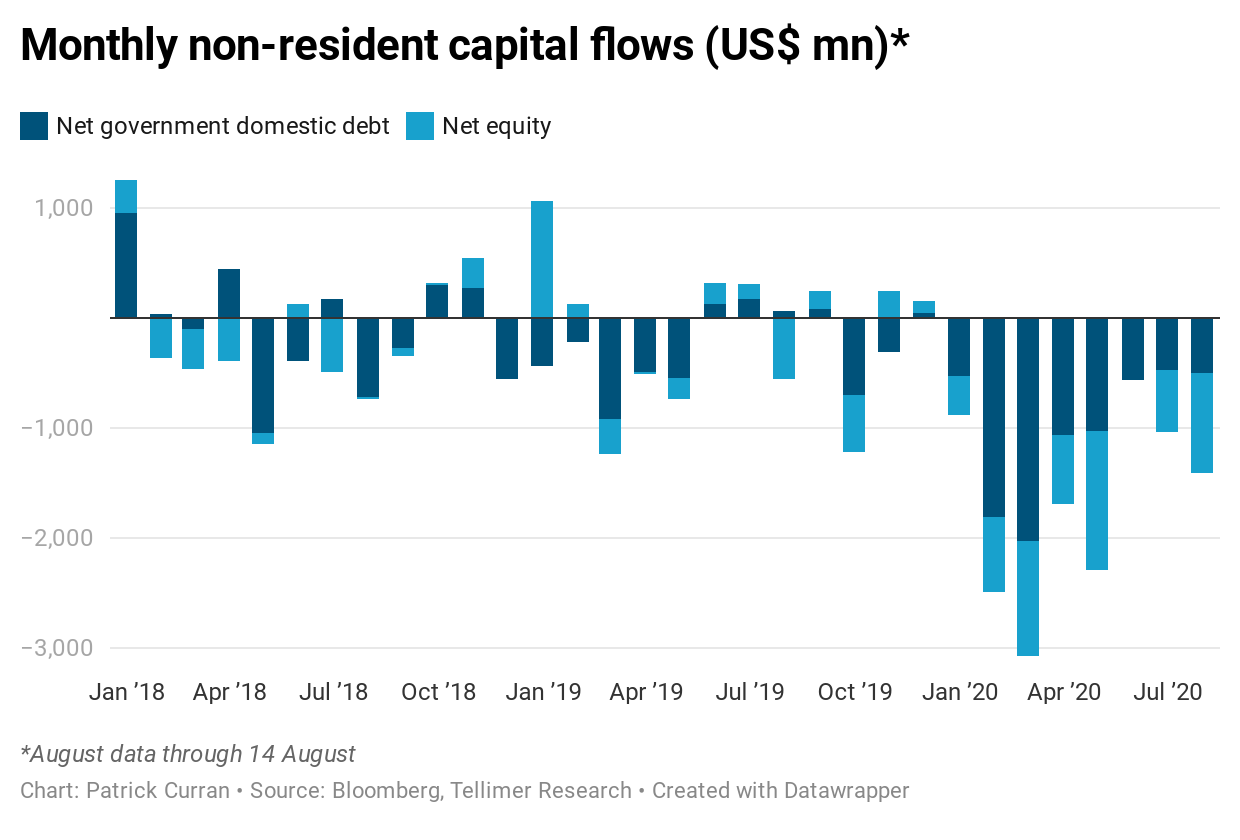 As a result, non-resident holdings of government debt have dropped to US$5.6bn (4% of total from 10% at the beginning of the year) and non-resident equity holdings have dropped to US$20.9bn. This compares to cUS$64bn and cUS$52bn, respectively, five years ago.
Meanwhile, domestic confidence in the TRY also seems to be waning, with dollarization of bank deposits on the rise. Resident FX deposits have risen by cUS$22bn ytd, pushing the dollarization rate to 53% from c50% at the beginning of the year and c43% at the beginning of 2018.
Amid mounting pressure, the CBRT has been trying desperately to defend the currency by selling FX in the open market, with Goldman Sachs estimating US$65bn of CBRT intervention in the year through July (vs. US$40bn for all of 2019).
This has pushed down Turkey's gross FX reserves by nearly US$35bn so far this year (c45% of the total), covering less than 3 months of import. 
The CBRT has engaged in FX swaps with state-owned banks to inflate its reserves and provide ammo for currency defence, with the outstanding stock reaching US$54.4bn in June. Netting out the CBRT's short-term FX liabilities to domestic banks and FX swap liabilities, Turkey's net reserves position has actually plummeted into negative territory.
This is alarming in light of Turkey's large external funding needs. While public debt is low relative to peers (c35% of GDP), Turkey's debt-fuelled growth model has pushed the total external debt stock to cUS$430bn (c57% of GDP). Of this, cUS$170bn is due over the next 12 months (roughly twice Turkey's official reserve assets, 100% of exports, and 22.5% of GDP).
If deteriorating fundamentals and investor sentiment cause a drop in the rollover rate for Turkey's private external debt, this could entail a massive exodus of capital.
The CBRT has tried to keep a lid on FX demand by pushing demand to the offshore market, culminating in significant dislocations at the beginning of August as US$ sales by state-owned banks to support the TRY began to settle after a public holiday and drained the supply of local currency. This pushed the offshore overnight borrowing rate above 1,000% as banks failed to settle FX transactions, calling into question the CBRT's ability to continue defending the TRY and leading to a knee-jerk c5% depreciation.
How can it be fixed?
In short, a credible tightening of the CBRT's monetary policy stance is the only way to arrest the fall of the TRY. Unfortunately, CBRT independence has been undermined by President Erdogan, who continues to harbour the nonsensical belief that higher interest rates stoke inflation.
Unable to hike the policy rate due to political pressure, the CBRT has resorted to alternative means to raise the cost of funding. It started by suspending its 1-week repo auction (8.25%) on 7 August, forcing banks to source funds at the overnight lending rate (9.75%). It then set limits on the amount banks can borrow in the interbank market (pushing demand to its late liquidity window at 11.25%), and opened conventional repo auctions in which lenders set their own rates (settling at 11.25%, most recently).
The CBRT also lowered the asset ratio, which had been introduced in April to compel banks to lend more and buy more government debt, from 100% to 95% for deposit banks and from 80% to 75% for Islamic banks. While these measures have succeeded in raising the average cost of funding from 7.76% at the end of July to 9.44% as of 20 August, they are unlikely to be enough.
Firstly, with inflation running at 11.76%y/y, real rates remain negative even at the highest possible rate of 11.25%. And without bonafide rate hikes, inflation expectations will remain high with the CBRT's 5% inflation target far out of reach.
Second, with liquidity being tightened on an ad hoc basis, markets will likely see this as a temporary tightening and will react accordingly. To durably ease pressure on the TRY, the policy rate needs to be increased, which remains unlikely due to resistance from Erdogan.
Indeed, the CBRT decided on Thursday to hold its policy rate (1-week repo) at 8.25% and continue with their "liquidity measures" (see here), in line with expectations. It followed the MPC decision with an announcement (here) that it would raise the amount of cash that commercial lenders must set aside as reserves, which is expected to withdraw TRY 17bn (US$2.3bn) of local currency liquidity and US$8.5bn of FX and gold from the market and will boost CBRT reserves.
But without a more credible tightening of policy the risk of continued capital outflows remains high, with a significantly negative NIIP of US$335bn (c46% of GDP) as of May. Of this, portfolio investment liabilities total US$120bn (US$22bn equity, US$98bn debt).
As before, this will likely have to be dealt with via reserve depletion or tighter capital controls, with the onus falling increasingly on the latter as net reserves drop further below zero. However, capital controls alone may not be sufficient, with large net errors and omissions at the onset of Covid-19 in March (US$4.6bn) hinting at potential capital flight below the surface.
Lastly, while Turkey's budget deficit remains low relative to peers it has deteriorated sharply post-Covid, reaching an estimated 4.4% of GDP in the 12 months to July. Diminishing investor sentiment at home and abroad may make it more difficult to finance the growing deficit, possibly forcing the CBRT to monetise the deficit and accelerating money supply expansion.
Conclusion: Where is the TRY headed?
While recent TRY depreciation may have presented a buy opportunity, the data above points to the likelihood of further volatility absent concerted policy tightening and we caution against attempts to catch the proverbial falling knife.
The IMF's annual external sector report estimated TRY overvaluation of c15% as of end-2019 following its sharp external adjustment, with a "cyclically-adjusted" current account balance of +0.8% of GDP in 2019 vs. a "CA norm" -0.8% of GDP (see here).
Turkey's REER has since depreciated by c10%, but its current account swung back to a 2.4% of GDP deficit in Q1. Disregarding the "cyclical component" of this adjustment, Turkey's CA balance is now below its "norm" and TRY undervaluation appears to have been erased per IMF definitions.
Meanwhile, recent analysis by the IIF that employs a higher frequency version of the IMF's valuation methodology puts fair value at TRY 7.50/US$. With the TRY above 7.30/US$ it is therefore approaching fair value, but that doesn't mean it cannot significantly overshoot in the short- to medium-term (in 2018 the TRY spiked to nearly 7.00/US$ before settling below 5.50/US$ in the following months).
Barring a credible tightening by the CBRT, the TRY will remain under pressure and could sail past its estimated fair value. Nominal treasury yields of 13-14% are unattractive amid negative real rates and the prospect of further TRY depreciation and/or capital controls will keep investors on the sidelines.
If the CBRT begins to tighten its policy stance more durably (i.e. via rate hikes rather than ad hoc measures to tighten liquidity), the recent volatility could create a buy opportunity. However, with net reserves plummeting below zero, high external funding needs, and a politically captured central bank that refuses to hike, we think the TRY is in for a bumpy ride.