Our proprietary survey of 900 consumers suggests Brazilian fintechs are set to gain substantial market share over the coming three years, largely by improving financial inclusion and taking business from informal operators. Gains are likely across most products, but particularly for savings accounts and international remittances.
Considering how fintechs run their own operations, our detailed survey of 215 firms provides some interesting insights. Regarding the competitive environment, the informal sector is regarded as a bigger threat by Brazilian fintechs than firms in other emerging markets. Brazilian fintechs are focused on growing their user base and transaction value, and on product/ service innovation. Relative to global peers, Brazil's fintechs are more focused on building scale and less interested in boosting customer loyalty.
Brazil fintechs regard the key values they deliver to their customers as being seamless execution and fast approvals within a secure environment. Compared with other EM fintechs, those in Brazil feel security is a more important issue, while responsiveness to customer needs is less so.
Brazil fintechs are likely to gain market share, according to consumers
We asked 900 consumers in 14 emerging markets about the types of providers meeting their current financial services needs, and the provider types they expected to use in three years. This data allows us to estimate the current market share of the different industry players and likely future shifts. Note that the survey responses are unweighted; we think traditional financial institutions would have a much higher share if our survey were value-weighted.
As for the current scenario, fintechs have a 30% market share in Brazil, which is broadly in line with the global EM average. In the next three years, consumers expect to increase their usage of fintechs, driving an 8 percentage point rise in market share. The fintech gains largely arise from improved financial inclusion and reduced reliance on informal channels, rather than any erosion in the position of traditional financial institutions.
Over the next three years, fintechs are likely to gain market share in 10 out of 11 of the surveyed financial products. The largest increases are expected in savings/fixed accounts, international remittances, current accounts and credit/debit card payments. Fintechs already lead against other operator types in mobile payments and domestic money transfers, which limits future development potential.
Our survey results suggest fintechs may, within three years, also build industry leadership positions in credit/debit card payments, current accounts and international remittances.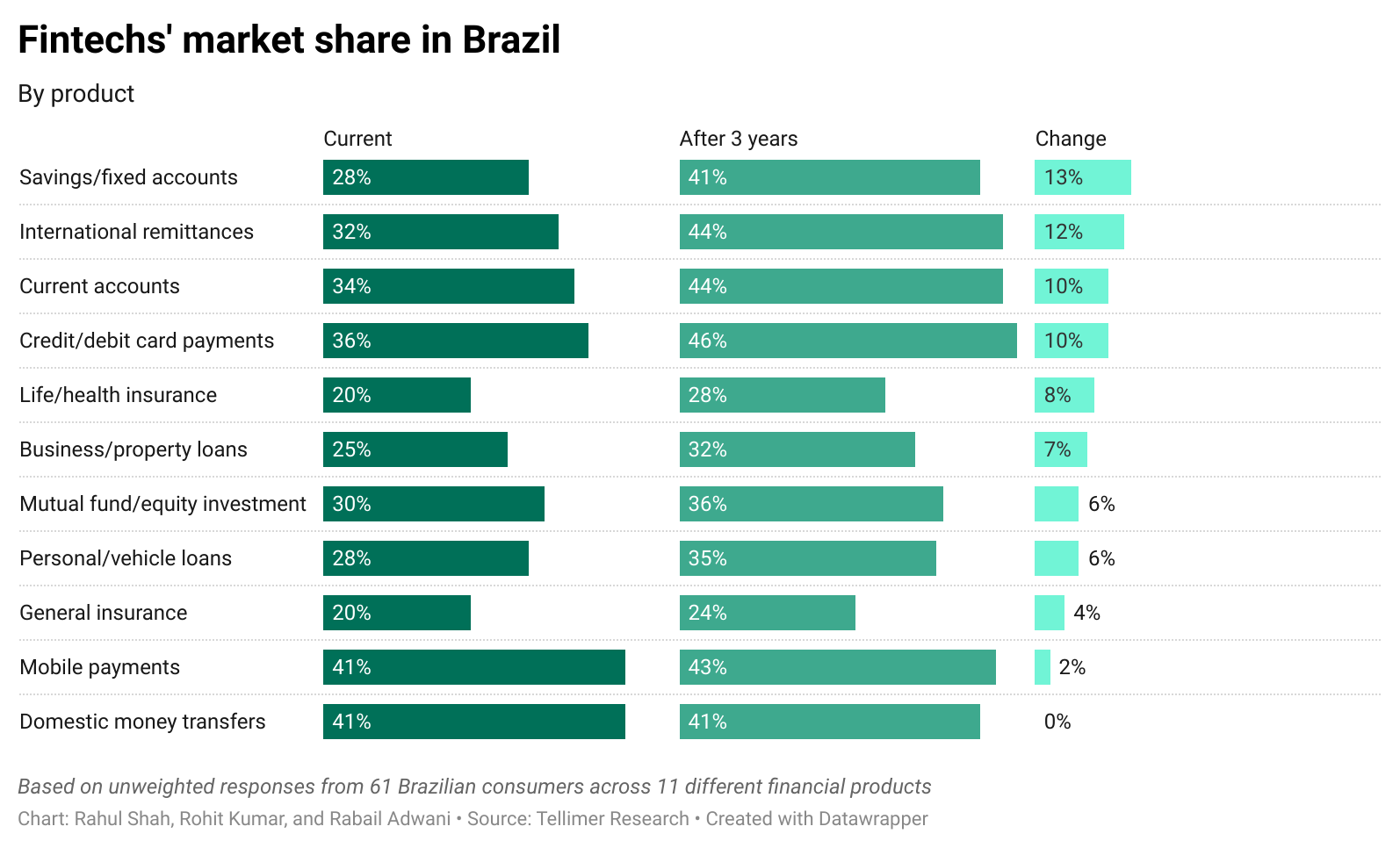 Targeted KPIs: Users, transaction value and innovation
According to Brazilian fintechs, the key performance indicators they are most focused on include growing their user base and transaction value, plus product/service innovation. The focus on these three metrics is in line with what we see from fintechs in other emerging markets. However, boosting customer loyalty/reducing customer churn is less of a priority for Brazilian fintechs versus operators elsewhere. Instead, Brazilian firms have a greater focus on building scale.
In our previous survey, customer satisfaction, market share and bottom-line growth topped the targeted KPIs. However, the focus on bottom-line growth and profitability has lessened (perhaps because most of our surveyed firms have moved above break-even) and the emphasis on customer satisfaction/loyalty has also declined. In contrast, efforts to lift market share via increasing transaction value are more intense than before.
Number of users
Growing the user base is key to generating scale and opening the door to cross-selling/up-selling opportunities. Brazilian fintechs focusing on growing their customer base include Neon (lending) and Hallo (lending).
Transaction value
This is one of the most frequently targeted KPIs cited by Brazilian fintechs and is also one of the key metrics used by investors to assess operators, particularly in the payments segment (although cashflow and profitability metrics are likely gaining traction as the investment environment clouds over). Firms actively targeting transaction value growth include Code Money (payments) and FacilitaPay (payments).
Product and service innovation
Product and service innovation enables fintechs to reach their customers more cheaply and effectively. It also helps fintechs to be more relevant to their customers, for example by offering them greater convenience and/or a better user experience. Fintechs that cite these innovations as key to success include Geru (lending) and Vality (lending).
The competitive landscape for Brazilian fintechs
Brazilian fintechs consider each type of financial service provider (fintechs, traditional financial institutions and informal channels) as delivering an equal competitive threat. This is very different from elsewhere in emerging markets, where incumbents and other fintechs are typically regarded as stronger competitors than informal channels.
Despite the large proportion of the adult population possessing bank accounts (70% versus 58% emerging markets median), we think the informal sector looms large in the Brazilian fintech's consciousness because they tend to be more focused on lower-income customers for whom informal providers have attractions, including low cost, easy access, convenience and less cumbersome onboarding processes.
The customer-value proposition: Secure, seamless and fast execution
According to Brazilian fintechs, the top values they deliver to their customers are seamless execution, fast approvals and security. Fintechs in Brazil regard security as a more important feature than those in other emerging markets, where responsiveness to customers' needs holds more sway.
These survey results broadly mirror those from 2020, although the importance of low product costs and pricing transparency has declined.
Seamless execution
Users increasingly demand that fintech-operated platforms and mobile applications should operate without any delays or interruptions. Fintechs that cite seamless execution as their key value include Beblue (loyalty and rewards) and Vality (lending).
Fast approvals
Fintechs can bypass the legacy systems used by incumbent firms that require human interaction. They may also be less constrained by compliance checks. However, fintechs will need to keep progressing in this area as incumbents are also lifting their game. Zoop (payments) and Gorila (investech) are among the fintechs that regard fast approvals as a key value proposition.
Security
Cybersecurity is a key concern for the financial services industry; both fintechs and incumbents need to continually enhance their security protocols to protect consumer data. Blockchain technology can improve transaction security, making it more difficult for hackers. Fintechs highlighting strong security as one of their key values include Sinqia (fintech software solutions) and Konduto (cybersecurity).
Related reading: