The Biden-Putin summit on 16 June met muted expectations: no joint press conference and no immediate progress on any of the many sources of friction in US-Russia relations, but a couple of tentative steps forward, eg the return of ambassadors, and none of the public acrimony which characterised the US-China summit in March. The investment case in Russia equities, in the near term, is likely to be driven more by oil prices, Russian interest rates, valuation, and the large EM peer group (ie the tussle between exposure to Commodities versus Technology) than geopolitics.
The fact the summit took place at all is a small positive for investors in Russia. Dialogue has restarted as both sides have communicated their "red lines" and started down a path of putting their diplomatic furniture back in place. And Biden now refers to Putin as a "worthy adversary', rather than agreeing with the description of him as a "killer". Baby steps.
Interests remain in conflict in the Russian periphery, particularly Ukraine, and this will inevitably lead to a flare up in tensions before too long. But Russia's fiscal control and low government debt, willingness to deploy its military, and acquisition of leverage in geopolitical arenas of interest to the US (eg Iran, Turkey), means it continues to have more leverage than its much smaller military spend compared to the US might suggest.
Furthermore, the space in which Russia can operate is expanded by the conflicted position of Germany at the heart of the EU, reliant on Russian gas imports but ideologically aligned with the US, and the increasing focus of the US on China, evidenced by Biden's efforts to turn NATO's attention further east than Russia.
Russia has leverage but not enough to force US sanctions removal
The broader context for US-Russia relations is that Russia does not represent anything approaching an existential conventional military threat to the US (which dwarfs its military expenditure by over a factor of 10x).
However, Russia has sufficient leverage across a range of issues of importance to the US to make it relevant.
Whether this leverage is sufficient to see any relief from US sanctions, which are aimed at the Russian elite (on whose support even Putin depends) is another matter.
The restart of dialogue at least suggests that the scope of US sanctions will not expand in the near future (eg to include foreign institutional investment and trading in fixed income and equity securities related to Russia).
Equities, particularly Sberbank, cheap
Russia equities, measured by the MOEX index, are up about 45% in the last year (in line with MSCI EM) and 25% year-to-date (ahead of the 8% increase in EM).
Forward PE is 7.7x, a 15% premium to the 5-year median, and forward dividend yield is 7.3% (above local 5-year bond yield of 7.0% and real interest rate of negative 0.5%). For comparison, oil exporting, large EM peer, Saudi is on 20x PE, a 40% premium to the 5-year median.
The largest financial stock, Sberbank, which is 16.5% of MSCI Russia, is on attractive forward valuation multiples: PB of 1.2x (for 20% ROE), 6.8x PE (in line with the 5-year median), and DY of 7.5%. For comparison, Al Rajhi Bank (14.2% of MSCI Saudi) is on PB of 4.3x (for 21% ROE).
Russia FX rate risk should be very low, assuming the sanctions environment is unchanged: current account surpluses are over 3% for 2021 and 2022 (with upside risk to these IMF forecasts given buoyant oil prices), import cover of over 20 months, short-term external debt to GDP below 5%, and 17% upside to spot FX rate should the real effective exchange return to the 10-year median.
Government debt risk should also be low with gross government debt to GDP below 20%, fiscal balance of close to zero in 2021 and 2022 (with upside risk to these IMF forecasts given buoyant oil prices).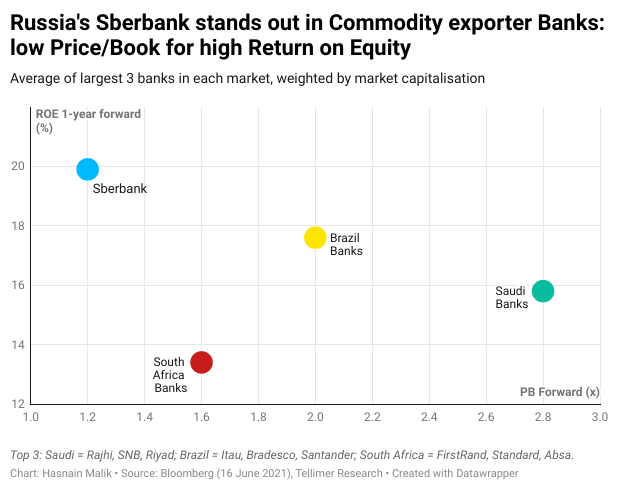 Related reading
Russia investment case
Russia revisited as Biden-Putin summit confirmed, May 2021
Commodity price beneficiaries in EM, October 2020
Russia geopolitical risk
Human rights dilemma for ESG investors and US foreign policy, February 2021
Belarus hijack shock: Initial thoughts and implications, May 2021
Georgia protests a bigger risk to economy than government, February 2021
Nagorno-Karabakh deal yields benefits for Turkey and Russia, November 2020
China geopolitical risk
China air force incursions in Taiwan after NATO summit, June 2021
G7's B3W is not an answer to China's BRI, June 2021
China and US trade sanctions and jibes on their path to decoupling, March 2021
China Nine-Dash Line, US, Taiwan and Asia: 9 charts to explain, January 2021