Bangladesh FX rate stability has been a mainstay of its economic policy but recent depreciation, falling reserves and an unforgiving global backdrop evoke memories of the last large devaluation seen in 2011.
Local press reports have also mentioned shortages of FX in the parallel market, where the discount to the official rate is c13%.
But the high growth in garment exports, a high starting point for FX reserves, and minimal short-term external debt should de-risk the FX rate.
Of more concern should be the high valuation of the equity market, relative to history, compared with all Asia EM peers.
A wobble in the taka
The Bangladesh tka is wobbling, down 3% in the past year and over 1% in the past month alone.
Those are trivial moves in the context of small emerging markets – eg FX rates in nearby Pakistan and Sri Lanka are down 23% and 45%, respectively, over the past year.
But they are noteworthy in a country where FX rate stability has been an anchor of macroeconomic policy and in a global context – high commodity prices and rising US rates – where there is no tolerance for external account weakness.
Causes for FX rate concern
There are causes for concern.
FX reserves are down 12% from their August 2021 peak.

Remittance inflows are down 16% in the first 10 months of the 2022 fiscal year (June year end), implying a 1.2% hit to the current account, all other factors equal.

Net fuel import costs have doubled in the past year, implying a 1.5% hit to the current account.

Net food import costs have increased c70% in the past year, implying a 0.4% hit to current account.

The taka is expensive on a measure like real effective exchange rate – a reversion to a REER of 100 implies 40% downside, on Bruegel estimates. A reversion to the 10-year median REER implies 9% downside (the most expensive on this historical measure among Asia EM peers).
Garment exports and reserves mitigate risk
Offsetting these risks are four factors.
Garment exports are up 35% in the first 10 months of the 2022 fiscal year. Garment exports are typically twice as important as remittances, 12% versus 6% of GDP, respectively. This year's garment export growth offsets the remittances decline by 3.5x, all other factors equal. Furthermore, the official yoy decline in remittances may be down to a resumption of travel, which has led to a resurgence in the use of informal channels.

FX reserves have fallen from their recent peak but the starting point was a very high one, after accumulation during the worst of the Covid pandemic, when luxury imports abated and fuel prices were subdued. Even after the recent fall, FX reserve imports cover is 5.5 months. Short-term external debt is minimal, at 5% of GDP.

Political risk is low with the next election not scheduled until December 2023 and a de-facto one-party state under Prime Minister Sheikh Hasina's Awami League, demonstrated by its 86% of parliamentary seats. Indeed, the greatest political risk comes from that of succession to Hasina, who is aged 74 and has led the government since 2009.

REER-based valuation may not adequately reflect the contribution of high productivity growth historically in the garment export sector, which drove wage growth not only in this tradable sector but across the whole economy (Balassa-Samuelson effect). In its latest Article IV report on Bangladesh, published in March 2021, the IMF argued that the taka was broadly in line with fundamentals in 2021.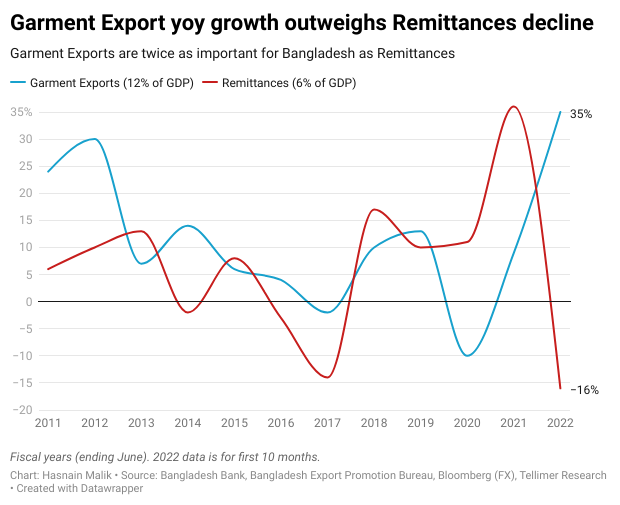 FX rate aside, an expensive equity market
Bangladesh equities (DSEX index) are down 9% ytd but this is an outperformance relative to most of its peers in Asia EM.
Valuation should be a concern more than the FX rate risk discussed above.
Trailing PB (MSCI IM Bangladesh index) is 1.5x (for 13% ROE), an 11% premium to the five-year median.

Trailing PE 9s 11x (alongside 3.4% dividend yield), an 11% discount to the five-year median.
On these multiples, Bangladesh looks more expensive than all Asia EM peers.
Many of the strengths of the investment case may be priced in from a relative perspective, leaving little room for any policy (eg unchecked erosion of FX reserves) error or shock.
Related reading
Bangladesh: 5 charts to mark 50 years of independence, April 2021
Bangladesh corruption exposé dents Awami League's reputation, not its power, Feb 2021