Stock market shut-down will leave a bitter taste, but others have been forgiven
The shut down of the equity market in Bangladesh likely leaves a long-lasting bitter taste for foreign institutional investors. Many will be put off by the ad hoc closure of the market for such a long period - Bangladesh, Jordan, and Sri Lanka are the only equity markets to shut for this length of time. 
For most foreign institutional investors when a market is shut for so long they cannot fairly attribute a value to their positions in that market or liquidate them. This has the knock-on effect that performance fees on this portion of their fund are put at risk and, worse, if their fund suffers a redemption, during the time this market is closed, they may have to sell disproportionately out of positions in other countries.
Of course, nothing is unforgivable and foreign institutions have returned with considerable vigour to markets which have endured long, unplanned effective shut-downs before, eg Egypt and Pakistan, albeit years later.
A relatively orderly re-opening...
If there was no further global change then there is unlikely to be a rush to sell when the Bangladesh market re-opens. Regional peer equity markets (Pakistan, Philippines, Vietnam) are up 17%, on average, since the Bangladesh market shut. Global benchmarks (DM, EM, FM, FEM) are up 6%, on average. Furthermore, on a year to date basis, the performance of Bangladesh prior to its closure (down 12% for the local DS30 index and down 18% for the large cap-biased MSCI country index) is close to the average c20% decline of regional peers and global benchmarks.
...But a long-term overhang of foreign sellers due limit-down price interference
Perhaps, more important than the market shut-down is the change to how limit-down prices were changed (taking effect on 22 March, shortly before the 26 March shut-down). The opening price of any stock is now set at the prior 5-day average price and this average is also used to set the floor, or limit-down, price. The effect of this change will be to make price-discovery less efficient and reduce overall trading liquidity. 
The contrived formula for maintaining a high limit-down price likely puts off potential buyers of institutional-sized blocks of stock. To a degree, foreign institutional investors with large positions in Bangladesh, particularly those which need to support high levels of liquidity in their overall fund (ie stand ready to meet any redemption quickly), are facing the prospect of quasi-trapped capital. Therefore, we expect there will be a gradual, long-lasting withdrawal from the market by foreigners. This could end up looking like the persistent overhang for the market which dogged Nigeria for many quarters after currency repatriation improved in 2017 and trapped foreign capital was able to escape.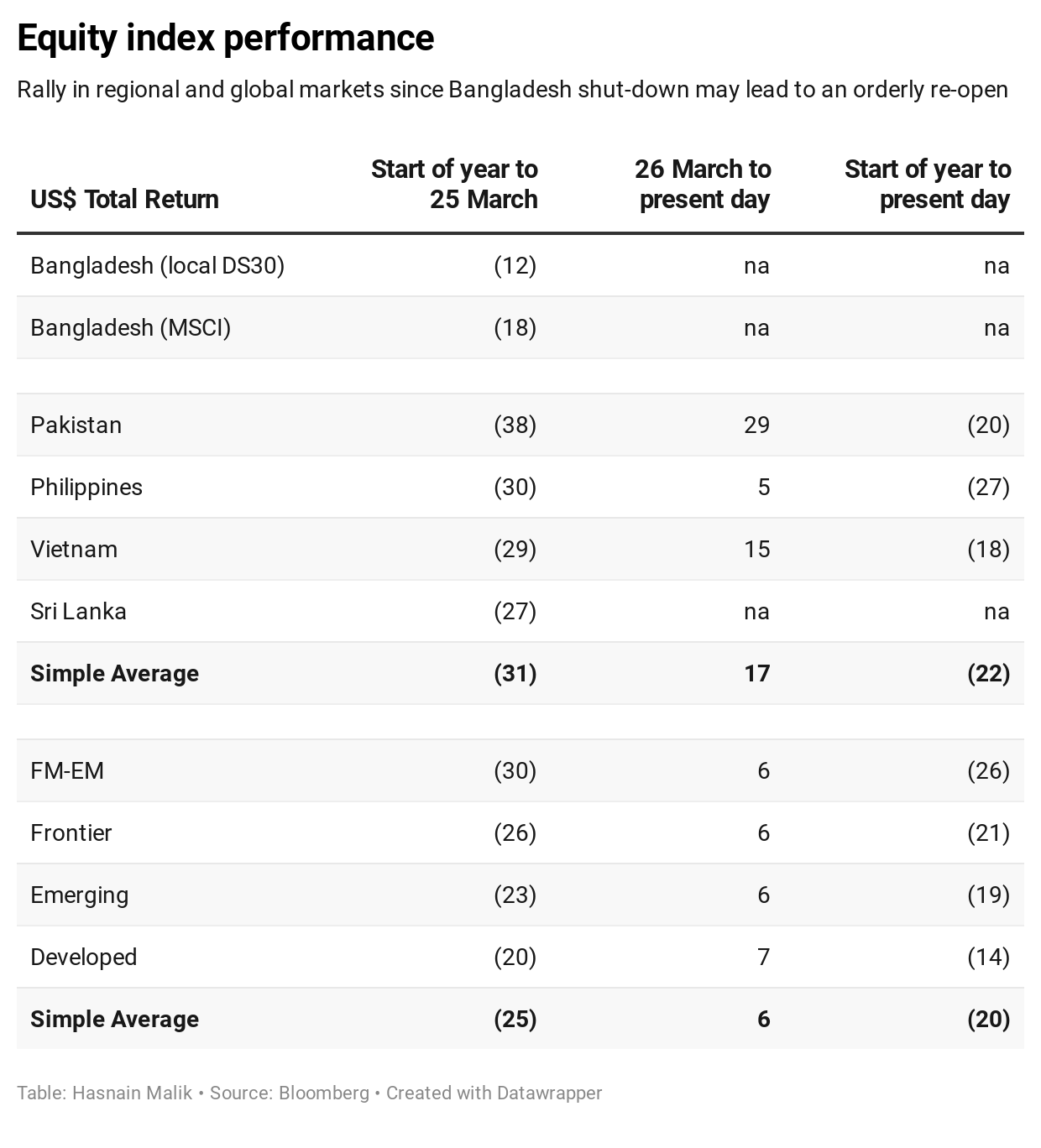 Compounds poor regulatory policy from a government under little political pressure
Bangladesh has many positive investment drivers: 
Low-cost labour; 
Low tariff access to the EU;
Extremely dense urban population;
Rapid growth (in the broad economy, urban population, mobile broadband, and mobile financial inclusion);
Low domestic political risk (the de facto one-party state under the Awami League); and
Geopolitical support from both China and the rival India-centric group.
These are spoiled by poor policy decisions. These two instances of interference with the stock market (closure and limit-down prices) compounds a list of poor regulations: 
Banking rate cap; 
Legacy poor asset quality in the state-owned banking sector;
Unpredictable and market-unfriendly tax changes in the telecom and tobacco sectors;
Delayed regulatory price increases in pharmaceuticals
An inflexible and over-valued currency. 
With a potential foreign investor overhang, a substantially larger valuation discount versus historic average (all regional peers are cheap relative to history) may be required to make Bangladesh equities compelling again.
And then there is, of course, Covid-19 and the oil price
All of this is before considering the disruption from Covid-19 and low oil prices. The promised fiscal response to Covid-19, equivalent to 2.5% of GDP, is on par with Pakistan and much higher than India's 0.8%. However, extreme urban density (almost 33,000 people per square km in cities with over 0.5m population) makes for ineffective implementation of social distancing to contain infections. A very high level of informal labour (over 90%) also makes the economic impact of the sudden-stop in activity severe. (The IMF's forecast for 2020 growth was cut from 7.4%/ 7.3% to 2.0%/ 9.5% in its April update).
Lower oil prices should drive lower imports but also lower remittance inflows. The drop to US$30 oil should benefit the current account balance by about 0.3% of GDP. A 20% drop in remittances from the GCC would be equivalent to about 0.5% of GDP.