Bangladesh celebrated the 50th anniversary of its independence on 26 March. We mark the occasion with five charts that summarise how far the country has come economically and why there is much growth ahead only if its unchallenged political leadership allows.
This growth story should be driven by urban consumption growth, robust remittances, ultimate recovery in EU demand for garments, infrastructure investment, the search for manufacturing alternatives to China, and geopolitical support from both the US-centric camp and China.
But this potential will be realised only if the political leadership refrains from using its deeply entrenched and unchallenged power to interfere with notionally independent businesses (eg dictating bank non-performing loan recognition and bank loan growth, retrospectively imposing royalties on the likes of Grameenphone, recomposing management and staff in banks like Islami) and to squeeze the opposition to a point where it becomes disenfranchised and radicalised.
Bangladesh equities are at attractive valuation for local and foreign investors on the balance of growth prospects and risks. Bangladesh equities, measured by the MSCI IMI index, are approximately flat year-to-date in total US$ return terms, up almost 50% in the last year, and on trailing PB and PE valuations close to the respective last 5-year medians. The trailing dividend yield is less, the real interest rate is 4.0%.
The FX rate appears expensive on a real effective exchange rate basis (a 35% devaluation implied if REER returns to 100, a 15% devaluation implied if REER returns to its last 10-year median), but 8 months of import cover, a 2.8% current account deficit in 2021 (IMF forecast), and short-term external debt of merely 5% of GDP suggest very low vulnerability of the FX rate (absent any major devaluation in export competitors like China) and this is before allowing for Balassa-Samuelson effect (seemingly expensive FX rates explained by higher productivity and growth).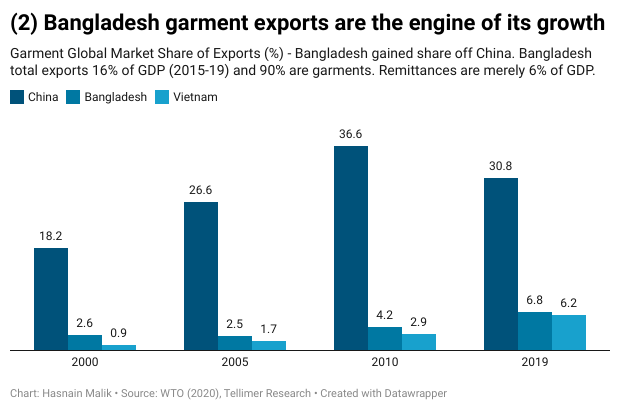 Related reading
Bangladesh: Corruption exposé dents Awami League's reputation, not its power, February 2021