GLOBAL
US Treasury futures remain bid this morning following yesterday's gains, that were driven by a rally for UK gilts. Gilt yields were down sharply across the curve yesterday as most of PM Truss's controversial economic policies are being walked back, and the BoE has delayed its QT to support market functioning. UK benchmark 10yr yields are now back below 4.000% as a result, while this has dragged US yields lower with the benchmark there trading below 4.000% once again as well.
Meanwhile, it appears that steps are being taken that could allow the Federal Reserve to start implementing a possible buy-back program. Liquidity metrics for USTs are approaching crisis levels. Last week, a survey was sent out by Treasury to primary dealers that were asked about the merits and limitations of such a program. Edging towards offering such a program suggests that market functioning may improve going forward, reducing the massive swings we have seen this year and helping to improve market risk appetite.
AFRICA
Ethiopia: While the Ethiopian government on Monday recommitted to peace talks over Tigray, it vowed to carry out "defensive measures," including seizing airports and other federal facilities in the region, ignoring appeals by the African Union for a ceasefire. According to the Government Communication Service, "these measures are necessitated not only by the repeated attacks of the Tigray People's Liberation Front but also by its active collusion with these hostile foreign powers." An escalation in the war is set to complicate Ethiopia's efforts to improve relations with international lenders as it awaits an International Monetary Fund loan amid efforts to restructure its debt.
Rwanda: A spokeswoman for European Union has indicated that the EU is considering providing financial backing to Rwandan troops fighting an Islamic State-linked insurgency in Mozambique's gas-rich north-eastern region. Talks with member states are reportedly at an advanced stage, with the proposal receiving strong support from France, Germany, and Italy. An insurgency by Islamist fighters that began in the region in 2017 has left thousands of people dead and displaced nearly a million, and prompted French energy company TotalEnergies SE to suspend a $20bn natural gas project. Once production begins, it is seen as offering Europe an alternative energy supply at a time when Russia is restricting gas sales to the continent.
Uganda: Uganda's trade deficit narrowed by 4.2% m/m to $310.71mn in August from $324.32mn in July on account of higher export receipts. On a year-year basis, the deficit, however, widened. Compared to the same month last year, the trade deficit widened from $253.82mn to $310.71mn in August 2022. The widening resulted from a higher increase in the import bill that more than offset growth in export receipts over this period. Overall, Uganda continues to run a trade account deficit which is set to pressure further the Ugandan shilling, which has lost almost 8% against the USD since the start of the year.
Zambia: Mines Minister Paul Kabuswe announced that Zambia will resume issuing mining licenses on October 19. The announcement came following the Cabinet's approval to reopen the relevant department at the Ministry of Mines and Minerals Development. In February this year, the government suspended the issuance of mining licenses to undertake an audit of mining rights in Zambia and to clean up the system and fight corruption. At the time, Minister Kabuswe said that the new government had inherited a system facilitating corrupt practices, and the suspension period would be used to rectify the situation for the benefit of both local and foreign investors.
Zambia: In a statement yesterday, Zambia's Finance Ministry said that the International Monetary Fund/World Bank debt sustainability framework for low-income countries calls for a 5% discount rate. The ministry added that "the authorities would neither dispute nor refuse the use of an alternative discount rate by creditors and are ready to base discussions on any such preferred rate, as long as the final agreed parameters comply with debt sustainability analysis constraints." The ministry also noted that Zambia is "ready to discuss and explore all restructuring options that would make this effort acceptable for creditors, especially private creditors". That said, it emphasized that the quantum of debt relief set out by the framework for Zambia needs to be delivered for the country to stay on track with its adjustment program.
Botswana: Botswana President Mokgweetsi Masisi urged the private sector to help the government combat 14-year high inflation when he officially opened the 16th edition of the National Business Conference (NBC). The event brings together government and business leaders to develop economic and business reforms to improve Botswana's competitiveness globally. This year's NBC is themed 'Road Map to High Income – Accelerating Transformation' and is set to end on Wednesday. Botswana has set a goal of being a high-income country by 2036, and Masisi underlined the importance of the government working with diverse stakeholders and regularly reviewing policies and legislative reforms to promote the welfare of Batswana.
Forex: FX derivates market prices in further Egyptian pound weakness as IMF deal nears
Over the weekend, there was some encouraging news for Egypt from the World Bank and International Monetary Fund Annual meetings. Finance Minister Mohammed Maait said that Egypt and the IMF had agreed at the expert level about the make-up of a new economic program and that an announcement about the deal was expected "very soon." The minister's comments came after the lender had said that "substantial progress" had been made in talks over a new program.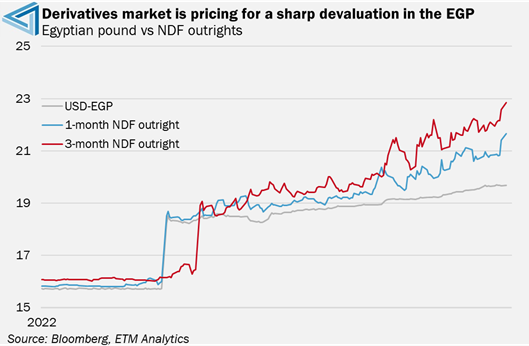 A major factor in determining whether Egypt secures a program has been the management of its currency. The IMF has long called for a more flexible exchange rate for Egypt to help avoid a further buildup of external imbalances and facilitate an adjustment to shocks. Given the rhetoric over the weekend, this hurdle may have been cleared. It is, therefore, unsurprising to see traders have stepped up bets that Egypt will let its pound depreciate and allow for looser management of the exchange rate system.
In the non-deliverables forward market, the 1-3-,6- and 12 months contracts continued to rise on Monday. The former jumped to 21.66 per dollar while the 3-month tenor rose to 22.85, recording their weakest closing level on record. The 3-month tenor is around 14% weaker than where the pound is trading in the spot market. While authorities have already devalued the pound by 15% in March, there is further to go for the currency to reflect its fair value as it remains overvalued.
Fixed Income: Emerging market borrowers shy away from long-dated debt
As global risk sentiment simmers and global interest rates continue to surge, emerging market borrowers have issued shorter-maturity debt. Data tracked by Bloomberg showed that the issuance of dollar- and euro-denominated bonds with a maturity of 10 years or more has fallen by more than 80% to around $7bn in the 12-month period through June. This compares to debt issuance (10 years or more) of $200bn annually in 2020 and 2021.
While the issuance of longer-dated debt has tanked, the share of debt maturing in 3 years or less has doubled to $17bn, making up around a third of all sales. Given the persistent dollar strength, which makes it more expensive for countries to service their debt, higher interest rates and dampened global risk appetite, it is not surprising to see that sovereign issuers have been issuing shorted-dated debt with issuers not willing to lock in high yields for a long period of time.
Buy-side factors have also contributed to the shift in debt issuance, with investor appetite for duration down sharply this year. Separate data from Bloomberg shows that more than $70bn has been pulled from emerging market dedicated bond funds this year, almost a third of the value. With the Fed expected to remain aggressive in its policy tightening in the near term, we expect the maturity of debt issuance to remain skewed to the front end.
Macroeconomic: Consumer prices continue to surge in Nigeria
Notwithstanding the bold rate hikes from the Central Bank of Nigeria, headline inflation in Nigeria hit a 17-year high as the currency continues to weaken. Headline inflation quickened to 20.8% y/y in September from 20.5% y/y in August. On a month-on-month basis, consumer prices rose by 1.36% in September. The statistics agency highlighted that disruptions in the supply of food products, higher import costs due to persistent currency weakness and the general increase in the cost of production were some of the main factors underpinning inflation in September.
For context, food inflation came in at 23.3% y/y in September, driven by increases in the prices of bread and cereals. Core inflation, which excludes the prices of volatile agricultural produce, came in at 17.6% y/y in September. This suggests that price pressures in Nigeria are broad-based. On a monthly basis, core inflation came in at 1.59% in September.
As mentioned above, currency weakness is compounding import price pressures. Note that the naira has depreciated by almost 7% against the USD since September 2021. With the bearish bias in the naira showing little sign of letting up and food supply risks still elevated, risks to the inflation outlook remain skewed firmly to the upside. As such, we expect the CBN to remain aggressive in its tightening.