Argentina's Minister of Economy Martin Guzman presented the country's debt sustainability framework on Friday while, in a seemingly coordinated move, the IMF published a technical note on the country's public debt sustainability at the same time. Recall, the IMF had already publicly called for a debt restructuring in its statement on 19 February, but gave away few further details at the time. The technical note sets out its analysis in more detail.
Neither will give bondholders much comfort. We were disappointed by the long-awaited government presentation, while the IMF's analysis will reinforce investor concerns that that Fund has gone soft on Argentina (although maybe there are mitigating circumstances now).
We think this signals sizeable losses to bondholders ahead, although this conclusion may come as no surprise to investors by now. Whether creditor power can resist this remains to be seen. And an IMF programme itself also still seems some way off, if at all. Here, we provide an updated assessment of recovery values based on our interpretation of the IMF's analysis and under certain other assumptions.
Key points 
We think the government's presentation was disappointing; after waiting three months, we might have expected it to say more and give more detail, although it may be that the authorities have relied on the IMF to do this for them instead. And maybe waiting was wise with hindsight as the impact of Covid-19 radically changes things anyway. But the presentation was largely devoid of anything new, an ex-post rationalisation of a decision to restructure this government took some time before it even entered office.
The government's presentation contained two key points in our view. First, it set out the perimeter of the commercial debt restructuring, with eligible debt amounting to US$83bn, consisting of privately held foreign currency debt under both local and foreign law (although the figures seem to differ from those published by the IMF). This had, however, been reported in local media in previous days. The biggest chunks of eligible debt are the foreign bonds – the Kirchner bonds and the Marci bonds – which amount to a total of US$65.5bn (Table 1). That might be reassuring to some investors who might have feared the Kirchner bonds would be excluded – whether they are treated the same or better, we'll still have to wait and see.
Table 1: Eligible commercial debt 
| | US$bn |
| --- | --- |
| Foreign law bonds | 65.5 |
| 2005/10 bonds ("Kirchner bonds") | 24.3 |
| Post-2016 bonds ("Marci bonds") | 41.2 |
| Local law foreign currency debt | 17.6 |
| US$ Bonars | 10.2 |
| US$ Letes | 3.9 |
| 2005 bonds | 3.5 |
| Total eligible debt | 83.1 |
Source: Argentina ministry of economy
Second, the additional fiscal effort being adopted by the government in its debt strategy appears to be limited. The government's fiscal path shows a primary surplus of between 0.8-1.2% of GDP over the medium-to-long term; the higher end of the range being its optimistic scenario, which sees real GDP growth averaging 2% per annum, while the lower-end being its pessimistic scenario, with growth averaging 1.5%. This compares with an expected primary outturn for 2020 of -1.6% of GDP, according to the IMF, given an expected deterioration from the impact of Covid-19 (and as we've noted before, ex-President Macri did a lot of the heavy lifting already in terms of reducing the primary deficit).
The new path also compares to the 1% primary surplus target under the now defunct IMF programme (reaching 1.3% by 2024), although clearly, domestic and external circumstances have deteriorated sharply since then. On that basis, the new path is similar to the old one, but is still not that ambitious in our view and takes longer to reach. The government's DSA brands something over 2% as not politically and socially achievable (we say DSA; it is just using the debt stabilising equation – not really worth waiting three months for). The government's modest fiscal ambition, which is explicitly endorsed by the IMF in its technical note, will be disappointing to bondholders. The IMF note, however, that Argentina has only achieved a primary surplus on rare occasions over the last 60 years, with the highest it achieved (above 2%) coinciding with a commodity boom in the mid-2000s. The IMF technical note assumes a feasible fiscal consolidation of 2.5% of GDP over 2021-23 can be achieved through revenue and measures.
The government also repeated its debt restructuring principles of transparency, goodfaith creditor engagement, and fair treatment across eligible creditors. It aims to engage in constructive discussions with bondholders/bondholder groups over the next week, although it may already be at risk of being perceived to be breaking its principles by stating the priority will be given to those who can demonstrate significant holdings.
Meanwhile, the IMF's technical note, which provides more detail and analysis, highlights two key targets for a debt restructuring operation, in our view. First, a reduction in the ratio of debt (defined as federal government debt owed to private creditors and official creditors) to GDP from 56% currently to 40% or below (this definition excludes intra-government debt, which would be treated differently; total public debt was 88% of GDP at end-2019, according to the IMF). Second, cashflow savings from a debt operation that will ensure future gross financing needs (GFNs) – essentially debt service – are sufficiently low; a move that we had anticipated following the Fund's approach with Ukraine (2014) – see Argentina: Dreaming of Uruguay dated 10 October. The IMF states that there is virtually no scope for FX debt service payments to private creditors during 2020–24 (probably to ensure the IMF gets paid, in our view), while gross financing needs should average no more than 5% of GDP after 2024 (and not exceeding 6% in any year). Foreign currency debt service should average no more than 3% of GDP after 2024. For reference, the IMF states that GFN for 2020 (pre-restructuring) are US$49bn (c13% of GDP) while foreign currency debt service is US$22.5bn (6% of GDP). We think the combination of these targets imply a sizeable haircut in nominal and cash flow terms and will be met by disappointment among bondholders.
We note also, however, that the technical note is a Staff note and has not been endorsed by the IMF Board.
Assessing recovery values 
We've tried to model what we think the IMF's analysis means for the foreign law bonds, based on our understanding and under a number of assumptions (we think there are still some questions that arise from it).
First, we assume the targeted debt reduction implies a c29% nominal haircut, although given about 10ppts of this is expected to come from the proposed primary surplus path according to the IMF, that implies to us a 20% nominal haircut on the bonds (assuming this quantum of debt reduction is shared equally across all affected creditors). That would reduce the foreign law debt stock to US$52.4bn from US$65.5bn.
Second, if we assume (simply) the debt restructuring aims to reduce the debt service on foreign currency debt from 6% of GDP (currently) to 3%, and we assume an effective interest rate on the existing foreign law stock of bonds of c7.8% (currently), we think that implies a 40% haircut on interest to about 4.7%. This implies annual interest payments of US$2.4bn on the lower debt stock. In reality, this is an overly simplistic assumption given the existing debt service profile includes principle and interest, although we think any operation will seek to push out near-term maturities – the GFN target suggests a five-year maturity extension – which means that the 3% target on foreign currency debt service should just be interest anyway in the near-term. We also assume this is shared across all affected creditors.
Third, we assume low payments during 2020-2024, given the GFN targets. We could assume no debt service payments at all, although we think bondholders would push for something as a show of goodfaith on behalf of the authorities. For instance, a 2% coupon on the lower debt stock would amount to annual interest payments of US$1bn, which we think is consistent with the GFN targets. That said, it is clear from the IMF figures that other foreign currency debt (including official sector and local law FX debt) will need to be treated as debt service on other foreign currency debt is still above the 3% target if we just remove the debt service on foreign law bonds. This could mean an even lower coupon than we've assumed.
For illustrative purposes, we assume a restructuring into a new 10 year bond (2030 maturity) with a 20% nominal haircut, 2% coupon over 2021-2024, rising to 5% thereafter (we observe this is not a million miles away from what we modelled in Argentina: Dreaming of Uruguay dated 10 October 2019). We assume immediate restructuring, which is a strong assumption, with first coupon in February 2021 (we assume no payments at all in 2020). While any delay would reduce estimated recoveries in PV terms, this may be offset to some extent by any past due and accrued interest arising from a payment default (although this would depend on whether – and how much – PDI is recognised). Hence, here we assume no PDI or accrued. We assume three annual repayments of principal in the last three years.
We recognise that there are multiple combinations of bond payment terms and cashflows that should be consistent with delivering the IMF's restructuring targets. Terms may also depend on the maturity (tenor) of the exchanged bonds (near maturities may be able to get better terms, for example). An agreement might see a grace period on interest over the first five years, but capitalise interest, thereby increasing potential recoveries, although such a profile would still need to be consistent with post-2024 GFN targets. However, here we focus on just one, we hope representative, scenario to keep the analysis tractable.
Our estimated recovery values for an illustrative restructuring scenario are shown in Table 2. Recovery values are expressed per unit of existing principal and are shown over a range of exit yields.
Table 2: Illustrative recovery values  
| Exit yield (%) | PV* |
| --- | --- |
| 8 | 55.1 |
| 9 | 51.0 |
| 10 | 47.3 |
| 11 | 43.9 |
| 12 | 40.8 |
| 13 | 37.9 |
| 14 | 35.3 |
| 15 | 32.9 |
| 16 | 30.7 |
| 17 | 28.7 |
| 18 | 26.9 |
| 19 | 25.2 |
| 20 | 23.6 |
Source: Tellimer Research. *Recovery values are expressed per unit of existing principal 
The exit yield assumption is, of course, one of the biggest uncertainties at this stage. Our benchmark is 12% although more optimistic values of say 8-9% may have been plausible before the Covid-19 crisis. Today, however, the average yield on a B-rated 10-yr SSA sovereign (excluding the major oil exporters) is around 12% (very roughly) for example, which might imply an exit yield of something like 14-15% for a post-restructuring case. Our estimated recovery value at a 15% exit yield is c33. Argentina 28s are indicated around 27 today on Bloomberg (mid-price basis), with a yield over 30% (Figure 1).
Figure 1: Price of ARGENT 5.875% 2028 (US$)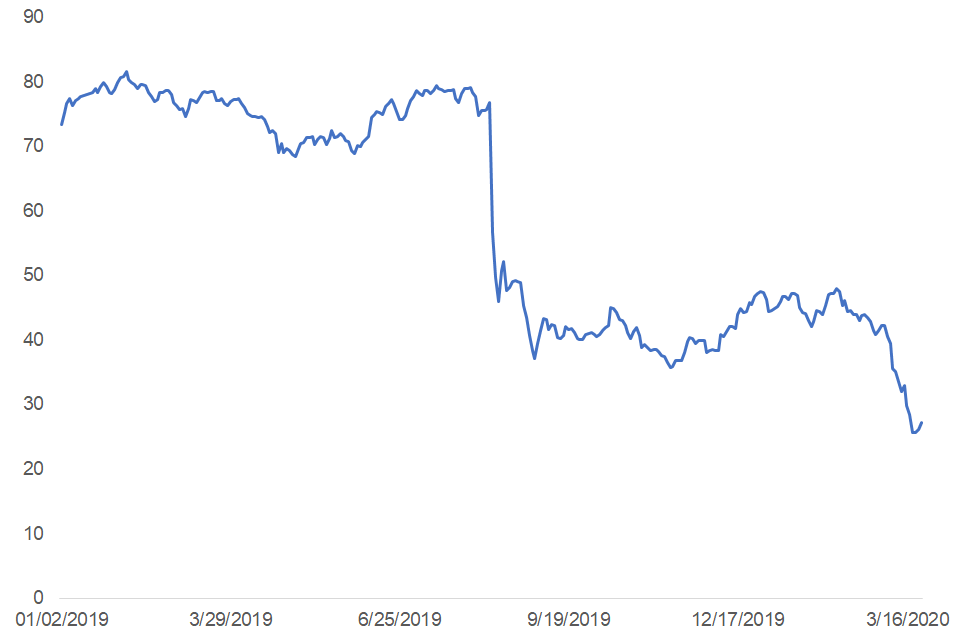 Source: Tellimer Research
Indeed, bondholders may prefer to delay a restructuring agreement given current market conditions. Conversely, the government may be incentivised to reach a quick agreement to avoid default and given the impact of Covid-19 on Argentina in order to help secure new external financing (we don't think Argentina has requested help from the IMF's emergency RFI facility, which we think could provide US$4.3bn (100% of quota), but this could be one option in the very short-term).
Of course, the longer negotiations take, the more likely Argentina is then to suffer a hard (payment) default – or confront the choice of paying out of limited reserves in order to avoid default, but at the risk of provoking a domestic public backlash. The government's own very ambitious (now all but redundant) timetable to complete a deal by end-March probably, had in mind upcoming payments in April (June and July). US$503mn is due on 22 April on Macri bonds (21s, 26s, 46s) – see Argentina's restructuring plan: Four observations, dated 7 February.
Finally, the government's presentation states that the authorities are in discussions with the IMF on steps towards a Fund programme in future. This again suggests there has been no formal programme request as of yet while the authorities' consent to the publication of the IMF technical note suggests to us nor is it particularly urgent.