ALBH stock is among leading MENA smelters in 2021
Aluminium Bahrain ("ALBH" or "Alba") had a good year in 2021, with the gains in the share price outpacing the rise in the base metal, as post-Covid economic recovery and the drive for green infrastructure drove demand.
Alba stock gained 56% in 2021 to close the year at BHD0.8, while aluminium LME spot prices gained 42% over the same period to finish at US$2,806/mt. The BHD0.02657 interim dividend declared in Q3 21 brings the total return on the stock to 61% in 2021. Alba's total return was one of the highest among global peers.
The aluminium market finished 2021 with increased volatility, but fundamentals remain strong
Aluminium prices were volatile in Q4 21, hitting a peak of US$3,149/mt and a trough of US$2,532/mt. As we had expected, aluminium prices crossed the US$3,000 mark as fundamentals remained strong, with the market still in a deficit. However, lower coal prices, after China's intervention, drove prices lower.
According to the latest reports from the World Bureau of Metals Statistics, the aluminium market recorded a deficit of 1.37MMT over 10M 2021, after recording a 1.27MMT surplus in FY 2020. Demand for primary aluminium increased 8% yoy to 57.61mmt, while supply increased by only 4% during the period.
Demand remains strong supported by post-Covid recovery and the drive for green infrastructure. Meanwhile, supply remains restrained as China continues to face energy restrictions (in a bid to curb CO2 emissions) that hamper production.
On the other hand, alumina prices – the key resource and cost element for aluminium production – was also volatile, reaching as much as US$470/mt, before cooling off to close the year at US$355/mt.
Supply constraints (as we highlighted in our previous note), as well as high energy costs, were the drivers of the price increases. However, prices were tamed as new alumina refining capacities are expected to start up across China, Indonesia and India.
Overall, the average aluminium price was up only 4% qoq to US$2,754/mt, while average alumina prices surged 30% higher qoq at US$424/mt (15% of LME aluminium prices; vs 12% in Q3). This is likely to drive gross margins lower in Q4 21.
In 2022, we see aluminium prices hovering around current levels, as market demand remains strong while supply remains steady. However, the Covid risks persist, especially as the number of cases of the new Omicron variant rise. In line with Bloomberg, we estimate LME spot prices to average US$2,583/mt in 2022. We also estimate alumina prices will be 14% of aluminium prices, to average US$357/mt for the year.
Alba Q4 21 results: Below the record high of Q3 21, but still strong yoy
Alba management recently announced another year of record aluminium production in 2021. The company produced 1.561MMT of aluminium, beating the previous record of 1.548MMT in 2020, as the company improved operational efficiencies. However, we think sales volume is likely to be impacted by the global supply issues which started in Q3 and persisted in Q4.
The expected lower sale volumes, along with the faster 30% increase in average alumina prices (vs a 4% increase in aluminium), are likely to drive earnings lower in Q4 21 compared to the record high in Q3 21.
Overall, we expect sales of BHD404mn (Q3 21: BHD389mn, Q4 20: BHD279mn) and net income of BHD97mn in the quarter, compared with BHD126mn in Q3 21 and BHD33mn in Q4 20. Nonetheless, we still view the performance as strong, especially compared to Q4 20 and average quarterly performance in H1 21.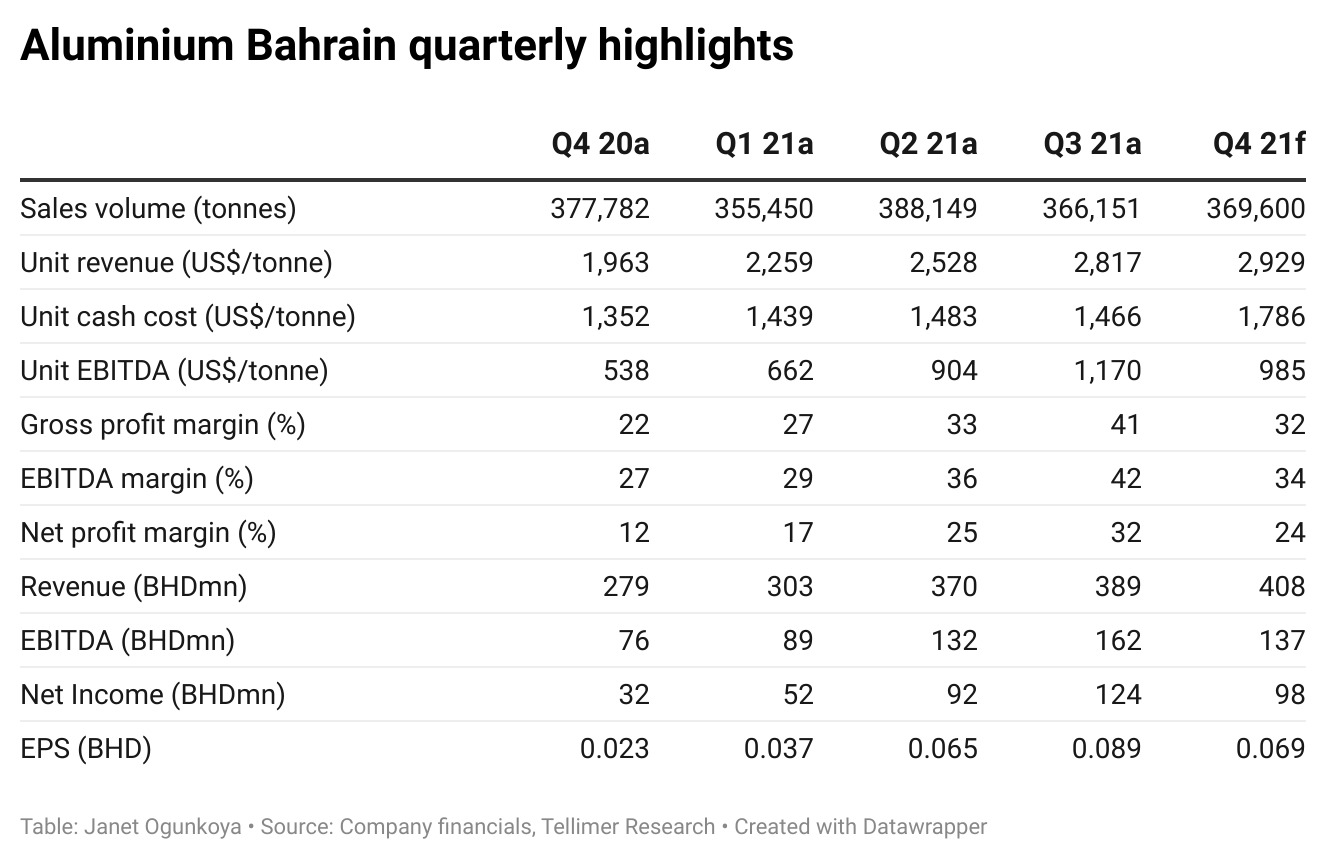 ALBH gets tighter on ESG and sets net carbon target for 2060
Alba has set a net-zero carbon target for 2060, joining top smelters globally to move towards cleaner aluminium production.
In that vein, the company recently completed the construction of a Spent Pot Lining (SPL) Treatment Plant – the first in the Middle East region. The environmental conservation project will aid the re-use of hazardous waste from aluminium smelting, known as spent pot lining (SPL). 25kg of SPL per tonne of aluminium can be used for cement production, steel and mineral wool or as inert waste.
Increasing our target price to BHD0.91
We update our model with revisions to our aluminium price forecast. Our forecast 5-year average LME aluminium spot price increases slightly to US$2,307/mt from US$2,268/mt, while the alumina-aluminium ratio is unchanged at 16%.
It is worth adding that Alba's semi-fixed gas agreements with the Bahrain government shields the company from the cost pressures of high global energy prices.
The adjustment leads to a slight increase in our target price for ALBH to BHD0.91 (from BHD0.89 previously), implying 13% upside from the current market price of BHD0.81. The stock trades at 2.7x 2022f EV/EBITDA (versus peers at 6.8x) and offers a potential 2022f and 2023f free cash flow (FCF) yield of 43% and 38%, respectively.
Valuation
Our December 2022 fair value for Alba is based on a discounted cash flow (DCF) valuation and net cash. The key parameters in our DCF are unchanged:
A risk-free rate of 2.3%.

An equity risk premium of 5.0%.

An after-tax cost of debt of 1.3%.
Company profile
Alba is the largest single-site aluminium smelter in the world. The company has a 1.5mtpa primary aluminium facility and produces a range of products such as billets, liquid metal, rolling slabs and standard ingots. Alba recently added its sixth potline (Line-6) with a capacity of 540 kilotonnes (kt) for an investment of cUS$3.5bn.
Alba was established in the Kingdom of Bahrain in 1968 and commenced operations in 1971 as a 120kt per annum smelter. In 2021, Alba achieved record-high production of 1,561kt of the highest-grade aluminium. As of 31 December 2020, close to 21% of its total output was supplied to Bahrain's downstream aluminium industry, while the rest was exported to Asia and MENA (45%), Europe (23%) and the Americas (10%). Alba is a major contributor to Bahrain's socio-economic development and employs 3,130 people (as at 31 December 2020), of whom 84% are Bahraini nationals.
Mumtalakat Holding Company (the sovereign wealth fund of Bahrain) holds c69% of Alba. The other key shareholder of the company is Saudi Basic Industries Corporation (SABIC, c21%), while the remaining 10% is free float.
This report has been commissioned by Aluminium Bahrain (Alba) and independently prepared and issued by Tellimer for publication. All information used in the publication of this report has been compiled from information provided to us by Alba and publicly available sources that are believed to be reliable, however we do not guarantee the accuracy or completeness of this report. Opinions contained in this report represent those of the research department of Tellimer at the time of publication. The sponsor has had no editorial input into the content of the note, and Tellimer's fees are not contingent on the sponsor's approval of the research.