Strong passenger demand continues
Passengers from airports operated in Mexico by Asur, Gap, and Oma, recorded solid demand dynamism, exceeding our growth expectations in the consolidated

Regarding total operations (including those outside Mexico), Asur recorded 25. 2% increase in passengers, Gap a 25.9% rise, and Oma a 26.1% growth

September figures underpin a sustained traffic growth for following months, so we reiterate our favorable opinion for the sector, although we'll remain alert to economic challenges
In September, total number of passengers of the 3 airport groups registered a 26.3% y/y advance (airports operated in Mexico).  A demand that remains strong resulted in an annual growth rate similar to previous month and it must be considered that the comparative base was less simple. Thus, total passenger traffic of Mexico's operated airports rose 26.3% y/y (vs. August increase of 26.8%), above our 22.0% estimate. Domestic's (68. 7% of the total) presented a 27.0% y/y growth and the international's 24. 7% y/y.
Individually, Asur recorded a 25.2% y/y rise, including a solid 31.7% y/y advance in Mexico's passengers. In San Juan Puerto Rico, traffic remained weak, falling 8.2% annually, while Colombia continued to perform well by rising 33.5% y/y. In turn, Gap showed a total passenger growth during September of 25.9% y/y. Passenger traffic from Mexico's operated airports, which means, excluding Montego Bay Airport in Jamaica (+57.4% y/y), and Kingston Airport (+87.5% y/y), had an annual surge of 22.6%. Finally, Oma presented an increase of 26.1% y/y in passengers.
The total passenger variations of Asur, Gap, and Oma of LTM were placed at 51.1%, 39.7%, and 38.4% (October 2021 – September 2022), compared to Augusts' LTM of 57.4%, 43.4%, and 41.4% (September 2021 – August 2022), respectively.
Corporate News
·      Gap mentioned that during the month 8 new routes were opened and that volume of seats offered rose 20.1% y/y, while the annual increase in the load factor went from 4.6pp to 78.3%.
·      Oma held that during the month four new routes began to operate: Monterrey ‒ Detroit, Monterrey ‒ Santo Domingo, Monterrey ‒ Toluca and Acapulco ‒ Santa Lucía (AIFA).
Conclusion...  Favorable performance of airport passengers operated by private groups in Mexico supports our expectation that demand will continue to show strong dynamism in coming months.  Considering Mexico's operations, Asur was positioned this month with the highest annual rise, where international segment continues to stand out, followed by Oma with good national segment momentum, and finally, Gap.  It is worth mentioning that, considering also the airports operated outside of Mexico, Gap had a slightly higher growth than Asur. We reiterate our view that, given the challenging environment, we see the sector as defensive due to interesting growth prospects for the year and attractive valuations, although we will remain attentive to economic challenges.  In turn, we will be looking forward for groups feedback when they publish their 3Q22 reports in following weeks. In our institutional portfolio we have exposure to Asur with a PT of MXN 483.50 per share, and to Oma with a PT of MXN 158.00 per share, both with Buy recommendations. However, to Gap our PT is MXN 300.00, and our recommendation is to Hold.
September passenger traffic
The following graphs show the evolution of the airport groups' total passengers over the last 12 months (percentage variation y/y) and the performance shares vs. S&P/BMV IPC.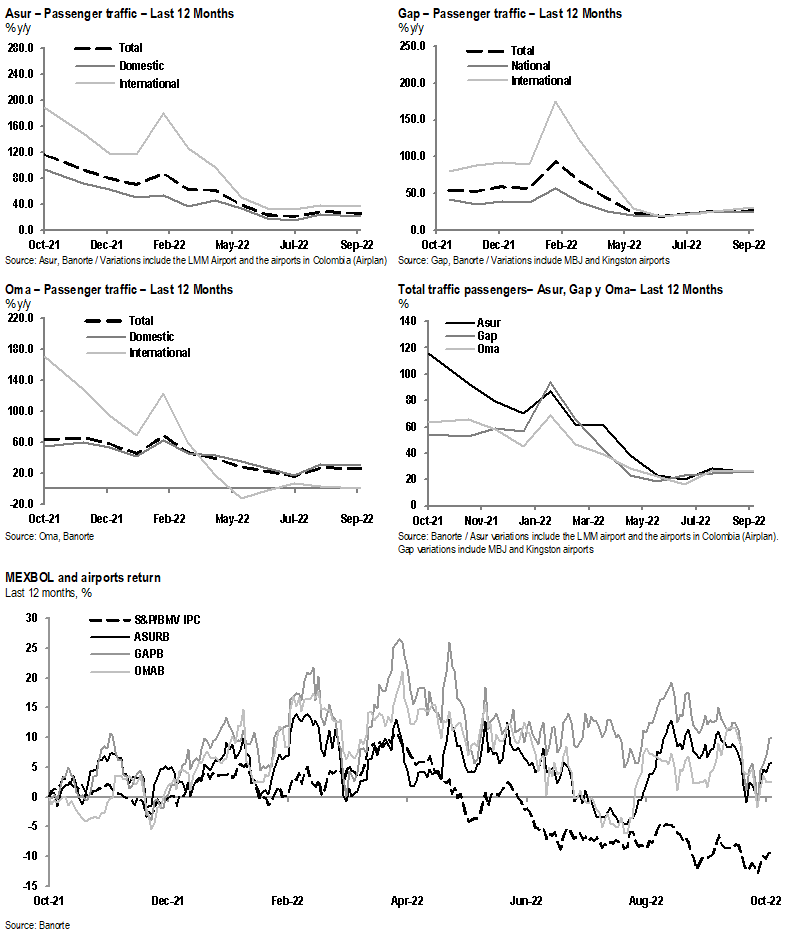 Sector comparison – Figures at September 2022