The European Union will seek to step up cooperation with African countries to help replace imports of Russian natural gas and reduce its dependence on Moscow by almost two-thirds. Countries in Africa, particularly in the western part of the continent, such as Nigeria, Senegal, and Angola, offer largely untapped potential for liquified natural gas.
The EU's plan to increase LNG imports by 50 billion cubic meters and boost shipments of pipeline gas from countries other than Russia by 10 billion cubic meters requires setting relationships with traditional suppliers on a new basis and extending trade to new emerging suppliers.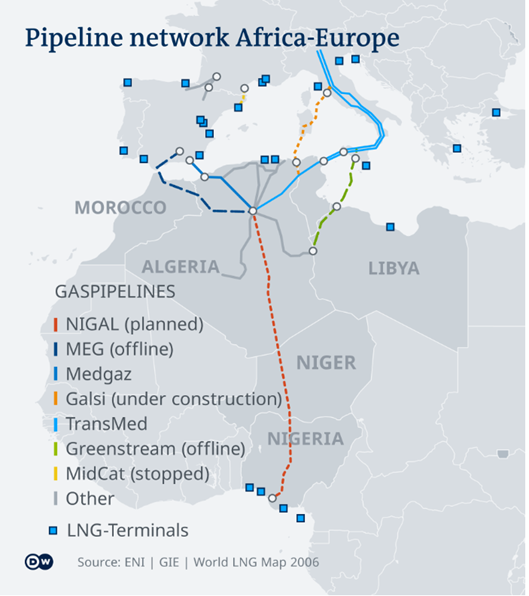 Africa has become Europe's latest gas hunting ground. Prime Minister Mario Draghi, the prime minister of Italy, has already rushed to sign deals with Algeria, Egypt, and the Congo Republic to curb his country's reliance on Moscow. Africa has vast fossil fuel reserves, and it is pretty close to Europe, so this is making it attractive to many European leaders. However, these countries' unstable politics and limited infrastructure are complicating matters.
North African countries like Algeria and Morocco can export to Europe via an existing pipeline under the Mediterranean, but building new ones to increase capacity will take years.
Countries like Nigeria and Mozambique each hold vast reserves, yet messy politics have hampered investment. Last year Total Energies had to halt construction of a $20 billion LNG project in northern Mozambique due to an Islamist insurgency.
In the end, the United States may be Europe's best bet. Some 102 bcm of Northern American LNG is under flexible contracts. And Europe has already managed to import 12 bcm of extra US gas in the first quarter of 2022. Despite its allure, Africa offers an imperfect gas solution.
The battle for control of Nigerian oil is getting worse
Nigeria may sit among one of the world's largest oil reserves in the world, but the majority of the Nigerian people have seen little benefit from the multibillion-dollar industry. The government and global energy companies have been exploiting the resource for years, and now the local militants are fighting for oil control, making conditions even worse.
A mega-project in Nigeria is raising hopes for more gas imports for Europeans. Algeria, Niger, and Nigeria have agreed to construct the 4000km long Trans-Saharan gas pipeline, also known as the NIGAL. According to media reports, once the estimated $21 billion pipeline is complete, it will transport up to 30 billion cubic meters of gas per year to Algeria, connecting to the existing network to Europe.
Algeria doesn't have enough gas readily available
Algeria is the 10th-largest gas producer globally. Cargoes of liquefied natural gas exported in 2021 were largely destined for the European markets. This makes Algeria one of the top five LNG exporters to Europe. Since the outbreak of the war, Algeria has expressed a willingness to increase natural gas exports and LNG. However, there are concerns that Algeria's reserves are not developed. Earlier this year, Algeria's state-owned oil and gas group Sonatrach announced a $40 billion investment package for a five-year period, but that doesn't mean that the country can step in right now. The two lead energy operators, Spain's Naturgy and Algeria's Sonatrach, could increase the capacity of the Medgaz pipeline with little effort. The pipeline connects Algeria directly to Spain. But Algeria doesn't have enough gas readily available.
Egypt expected to export to China
Egypt had the largest year-on-year export growth in 2021. Egypt went from exporting zero LNG in the period 2020 to exporting 1.4 million tons in 2021. LNG is the only gas the country is exporting as the country is not currently connected to a European pipeline network. China has offered the country long-term contracts. For Egypt, it makes sense to continue to be a reliable supplier and maintain its Chinese market shares.
Interest in Tanzania's LNG sector increases
Tanzania's LNG sector has received a $30 billion shot in the arm from a conglomerate of large energy companies. Tanzania has an estimated 57 trillion cubic feet of natural gas reserves. These reserves have proven to be extremely necessary for the nation's economy and energy sector at large. LNG in Tanzania is faced with other competitions in the region. Egypt is the next potential powerhouse next door and a much more experienced producer.
Congo doesn't have the infrastructure needed to export more natural gas
The Republic of Congo is the third-largest crude-oil producer in sub-Saharan Africa, following Nigeria and Angola. The Republic of Congo is highly dependent on crude oil production for its economic revenue. The Italian prime minister has already rushed to sign a deal with Congo in order to reduce its reliance on Russia. One of the main issues with trying to get natural gas from the congo is that it is landbound, making transporting the product more challenging. Italian oil and gas company Eni has agreed with the republic of Congo to increase gas production and supply primarily through the development of an LNG project that is to start in 2023. The project will have a capacity of over three million tonnes per year once fully operational. Currently, the Congo doesn't have the ability to increase its natural gas supply to Europe.
Mozambique's LNG production set to surge in 2024
Mozambique has become known as the home of oil and gas in Southern Africa. Investments into Mozambique's LNG sector include the $20bn project led by French energy giant Total, the $4.7bn Coral Floating LNG project led by Eni and ExxonMobil and the $30bn Rovuma LNG project led by ExxonMobil, Eni and the China National Petroleum Corporation.
Mozambique is currently a small producer of natural gas, but substantial natural gas deposits discovered in Area 1 and Area 4 of Mozambique's deepwater Rovuma Basin suggest that this will change in the years ahead, with the country expected to be one of the largest LNG producers in Africa by 2024.
Policy reform in Uganda has resulted in investments into expanding oil and gas exploration
Greenfield investments in Uganda will play an increasing role in expanding Africa's oil and gas exploration and production as the East African country seeks to expand its promising market for economic transformation and energy reliability locally, regionally and at continental level. A lack of investment in production and infrastructure development since the early 2000s has resulted in a stagnant oil and gas market in Uganda. However, policy reforms and various initiatives adopted by the Ugandan government in recent years have attracted significant investment and encouraged the entrance of international majors in oil exploration as well as the development of infrastructure that can enable Uganda to start production by 2025.
Bottom line: Africa has more reserves than needed for its own market. Therefore, they could potentially fill some of the gap left by Russia. But in a country like Nigeria, there are bottlenecks and structural hindrances, and in 2021 the country was unable to meet its target. The infrastructure also hardly allows for further production, and there is always the question of efficiency and reliability. So yes, Africa may have the capacity to supply gas to Europe, but the question is if they have the ability? Most of the gas-rich countries are developing countries that lack the infrastructure and economic stability needed to become one of the leading countries to supply Europe with gas. However, this could be an excellent opportunity for these countries to improve economic growth as they will have more foreign reserves coming into the country.