Africa remains an attractive hunting ground for digital payments given poor rates of financial inclusion, a young, fast-growing population and increasing mobile (and smartphone) penetration. Telcos have traditionally had a big advantage in this area, given their large customer bases and data handling capacity, with Safaricom's MPesa showing the way forward. But digital upstarts, such as Nigeria's Flutterwave, are also making their mark. Airtel Africa recently confirmed that it was looking to separately list its mobile money arm, and now MTN is following suit. If these transactions are successful expect other regional telcos, such as Sonatel, to repeat the exercise.
Africa is the global hotbed of mobile money
A combination of poor financial inclusion and growing mobile phone penetration (including smartphones) has made Africa a promising environment for the growth of mobile money and, more broadly, innovation in digital payments services. According to GSMA, Sub-Saharan Africa's mobile money transaction volume and value grew by 15% and 23% respectively in 2020. The region also accounted for more than half of the global total for live services (ie. active mobile money operators), active accounts, transaction volume and value.
MPesa has lifted financial inclusion levels in Kenya
Safaricom's MPesa has been the poster child for this trend; the firm now has 26.8mn active clients who processed US$85bn of transactions in H1 FY21 (the firm has a March year end). The number of active users has more than doubled since 2014.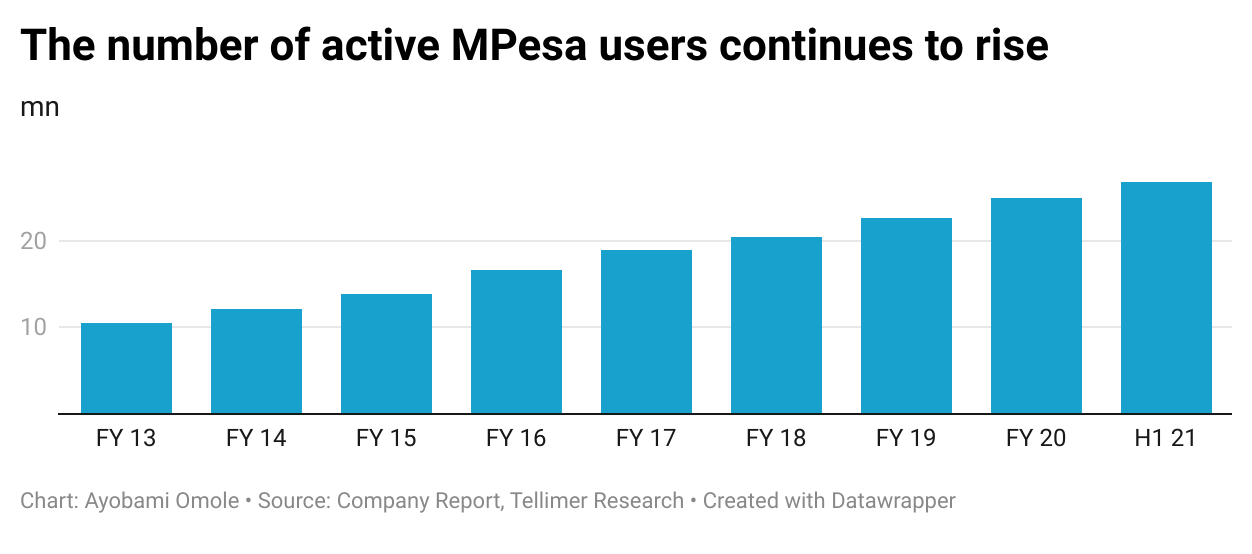 Partly due to the success of MPesa, formal financial inclusion rates in Kenya have doubled over the past decade and now stand comfortably above 80%.
Investors can choose from only a few listed digital payments vehicles
For investors, the key challenge has been finding listed vehicles that give exposure to the structural growth story of African digital payments. For example, we estimate that MPesa accounts for 57% of Safaricom's fair value, with the rest coming from more traditional voice and data telecom services.
Cassava Smartech is one such listed option; its primary asset is the EcoCash business. However, it brings with it a whole range of embedded Zimbabwe macro risks, including currency volatility and capital controls. Egypt's Fawry, which listed in 2019, is less encumbered by such baggage. Tech firms such as Morocco's HPS or South Africa's Capital Appreciation can also give payments exposure, but again not in a pure-play form; investability is also limited. Additional data on these names are presented in the Appendix.
Telcos' mobile money arms would be a welcome addition to the opportunity set
In this context, we think separate listings of African telcos' mobile money arms could generate significant investor interest. Such actions could also help remove the substantial conglomerate discounts that we think currently exist.
We had previously commented on Airtel Africa's plans to separately list its mobile money arm, Airtel Mobile Commerce. Now MTN, the largest African telco, is indicating that it has similar intentions. We highlight below key metrics for these firms' mobile money businesses, together with those of Safaricom's MPesa.

We think MTN MoMo could be worth in excess of US$5bn
Our analysis indicates that MTN's mobile money operations could be worth around US$5.7bn, ie roughly double those of Africa Airtel, but roughly a third less than Mpesa. Key determinants of the actual value investors are willing to ascribe will depend on a combination of subscriber growth prospects and successful migration away from peer-to-peer payments towards the creation of a broader business-to-consumer ecosystem.
We note that Safaricom has struggled in this latter area, particularly when compared to Asian peers, such as Ant Group's Alipay; it has also failed to have the same impact outside Kenya as in its home market. The door, therefore, remains open for another business to become the continent's dominant digital payments platform.
Appendix: peer company multiples