Since its 2019 launch in Uzbekistan, ZoodPay has delivered explosive growth, such that it is now the clear leader in this market, with over a 50% share of e-commerce and online lending. The firm has successfully expanded into other regional economies, such as Iraq, Jordan and Lebanon, and most recently entered Pakistan.
ZoodPay's primary revenue generator is its credit products, both to consumers and SMEs, but it also has an e-commerce marketplace (which helps lower customer acquisition costs and builds the credit history) and a logistics arm (to ensure a high-quality user experience and to enable inventory collateralisation of its SME loans).
In this report, we examine ZoodPay's unique business model to understand better its ability to deliver sector-leading growth and margins while minimising customer acquisition costs and loan defaults. We also consider the long-term growth potential of the franchise and look at the strategic options open to the company.
Investment summary
ZoodPay is a lending fintech with associated e-commerce and logistics arms. These three businesses have significant synergies, helping generate more customer touchpoints, lower customer-acquisition costs, a high-quality fulfilment experience and reduced credit risk exposure. We highlight below some of the key elements of the investment story:
Source: ZoodPay. *average ytd May 2022. **deployment in Q4 2022.
Exposure to underdeveloped markets. ZoodPay began operating in Uzbekistan in 2019 and has since expanded into Lebanon, Iraq, Jordan and, most recently, Pakistan. These markets are characterised by poor levels of financial infrastructure and limited credit penetration, meaning there is pent-up demand for ZoodPay's consumer and SME loan products. They are also large, with a young, tech-savvy population of more than 300mn and a total addressable market size of US$141bn, combining online and offline retail markets and SME financing.
Rapid growth. In the space of three years, ZoodPay has built up a customer base of 1.2mn monthly active users. This growth has been achieved through a potent combination of operational effectiveness and rapid execution of acquisitions, joint ventures and partnerships to augment the firm's capabilities. There is still substantial growth potential for the business. To date, the key revenue generator has been the four-instalment BNPL product but, lately, the 12-instalment consumer loan (part of which will be outsourced to traditional lenders via the ZoodBroker API) and the fully collateralised SME loan are growing in importance. The recent addition of Pakistan adds a huge new market to ZoodPay's footprint.

Attractive margins. A combination of the high utility of its products, multiple touchpoints across the value chain and limited competition allows ZoodPay to extract a much higher proportion of transaction value as revenues than its international peers. The projected take rate for 2022 is more than 13% globally and is currently over 20% in Uzbekistan (compared with a listed EM peer median of 0.7%). Management believes this take rate is sustainable given the high value the firm's products generate for its customers. This is evidenced by the high repeat rate (20%), which also helps keep risk and KYC costs under control.

Efficient operations. The attractiveness of ZoodPay's marketplace offering (a user-friendly interface giving consumers access to a wide range of merchants and products) helps give ZoodPay some of the lowest customer acquisition costs in the industry (US$4 in Uzbekistan) even as its top-line growth outpaces that of most global peers. The bulk of the firm's cost base is variable in nature, being loan funding costs, risk costs, payments processing fees, product refusal costs and KYC/credit scoring, while fixed costs such as technology are spread across the business footprint.

Strong risk management. Through effective use of alternative datasets and a cautious risk management framework, ZoodPay has managed to keep delinquencies below 5% of total lending, with a transaction-level approval rate of c76%. One key factor behind this is that most of its BNPL product is typically small-ticket (cUS$40) and used to finance purchases of essential goods. ZoodPay uses this transactional data to build credit histories for unbanked and underbanked users inside an ecosystem where the firm has full end-to-end control of the user experience, including last-mile delivery. Moreover, new users start with smaller tickets and graduate over time to higher-ticket products and longer-tenor consumer loans. In contrast, in developed markets, the typical BNPL-financed purchase is discretionary/aspirational. The bulk of the firm's consumer loan book will be outsourced to financial providers via the ZoodPay Broker API. The SME loan book is skewed towards higher-quality merchants and is fully collateralised with liquid and pledged inventory.

Experienced senior management team. Co-founder and CEO Michael Khoi has already successfully created and exited two businesses, while co-founder and CRO Martin Muransky has extensive financial services experience. Other members of the team bring experience in technology (Alibaba, Microsoft, Samsung), FMCG (P&G, L'Oreal), logistics (Wolt, Kazpost), finance (Mastercard, Tez Financial Services, UBS) and professional services (Deloitte, EY)

Complementary group of shareholders. ZoodPay's parent, OrientSwiss SA, is headquartered in Switzerland. Key shareholders include Zain, the Kuwaiti telco giant, and Sturgeon Capital, the London-based VC firm. Management also has a major stake in the business.
Company profile
ZoodPay's roots date back to 2015, when Michael Khoi and Martin Muransky developed the idea of an e-commerce enabler in the Middle East and Central Asia as part of their final-year EMBA project at IMD Business School. The concept was further refined to become what is now ZoodPay, and was formally launched at the end of 2019.
ZoodPay is a leading emerging markets digital lending platform for e-commerce that helps unbanked and underbanked consumers and merchants to purchase and sell a wide variety of goods through a holistic ecosystem. ZoodPay started its operations in Uzbekistan but has since diversified into other markets, including Iraq, Lebanon, Jordan and Pakistan.
SWOT analysis
Source: Tellimer Research, ZoodPay
Corporate strategy
ZoodPay's goal is to become the leading digital lending platform for e-commerce across its countries of operation. The company focuses on underdeveloped markets with limited financial infrastructure, young tech-savvy populations, cash-based transactions, limited access to consumer/SME lending and low e-commerce penetration.
In such markets, the firm can charge attractive prices for its credit products and other services, due to the high perceived value from customers and limited competition. The e-commerce ecosystem helps build customer insights that can be leveraged to control credit risk. There is a significant value-add (and competitive advantage) from the firm's innovative, high-quality risk management.
ZoodPay started its operations in Uzbekistan in 2019, and has subsequently added Lebanon, Iraq, Jordan and, most recently, Pakistan. The total population in these markets exceeds 300mn, with a GDP size of more than US$500bn and a total addressable market of US$140bn. To date, ZoodPay has attracted 1.2mn monthly active customers to its platform (and 10.5mn total users), while its e-commerce marketplace features 6mn products from 30,000 merchants.
Its e-commerce activities carry two key benefits for its core fintech offerings. First, they lower client acquisition costs, since the credit product is only offered at the point of sale (online or at the store) when the customer is ready to transact. Second, the marketplace allows the firm to collect sufficient data to accurately gauge the credit risk profile of the customer.
ZoodPay has also attached a logistics arm to its marketplace business, to ensure a higher-quality fulfilment experience for its customers but also to address the many challenges merchants face when moving into online commerce. Crucially, this infrastructure enables ZoodPay to minimise fraud and control credit risk when lending to its SME clients: in addition to the pledged inventory from the merchants, ZoodPay also handles the payments collections from consumers.
ZoodPay's core revenue generator is its BNPL product, which allows shoppers to make purchases with repayments in four equal, interest-free instalments over three months. The firm collects a fee from the merchant for providing the BNPL service. In return, the merchant benefits from a higher sales conversion rate and an immediate payment for its sale. The BNPL facilities are small (less than US$40), although the actual facility size depends on the risk profile of the shopper, who is typically a low-income individual financing purchases of essentials rather than discretionary items.
Two newer credit products are gaining importance. The first is an interest-bearing consumer loan product that can be repaid over 12 equal monthly instalments. ZoodPay accommodates the requests from its best customers, on whom they have more data. The bulk of these requests are not held on ZoodPay's balance sheet but are instead outsourced to bidding financial institutions; the firm obtains a fee for origination (including risk selection) and servicing of the loan. The other is an SME loan product (of up to US$20,000) of 30-days tenor, used for inventory financing. Crucially, via its logistics business, ZoodPay retains ownership of the inventory and the consumers' receivables until full payment is made.
To help rapidly scale its business, ZoodPay has actively pursued acquisitions, joint ventures and partnerships to augment its core operations and provide additional sources of value to its customers.
Evolution of the business
ZoodPay has scaled its business rapidly since its 2019 launch in Uzbekistan, adding a combination of additional products and entering new markets, via a mixture of greenfield, acquisition and partnership approaches.
Notable acquisitions include Tez Financial Services (Pakistan) and Fargo (logistics, Uzbekistan). Key partnerships include those with major shareholder Zain (to access anonymised phone traffic data in Iraq and Jordan to help build credit-scoring models), payments operators HyperPay and Network International, card operator Mastercard and mobile phone manufacturer Samsung.
Through these actions, management has helped the business to scale rapidly and to provide multiple customer touchpoints to lower acquisition costs, lift margins and boost risk management.
Key performance indicators
Since its launch in 2019, ZoodPay has successfully attracted 1.2mn monthly active customers, generating high-margin revenues across all its verticals; its global take rate is c15% (over 20% in Uzbekistan), which is an industry-leading level. At the same time, its customer acquisition costs are a mere US$4.
The company has granted several hundred thousand loans so far, with a bad debt rate of less than 4.5% and an approval rate of 76%, which we think is admirable given recent difficulties faced by several other BNPL-focused fintechs, and the lack of conventional customer risk datasets in any of the markets in which the company operates.
ZoodPay ecosystem
ZoodPay offers a complete ecosystem for e-commerce enablement to both merchants and consumers, through its lending 'super app' ZoodPay. It has a marketplace where 1.2mn active customers can access over 6mn products offered by 30,000 merchants, both locally and cross-border. ZoodPay also provides fintech solutions, where the company offers credit products to both consumers and merchants; this is its key source of revenue. In addition, the company offers logistics services, providing inventory management, delivery and other allied services to its marketplace merchants; the data collected through logistics and inventory control enables ZoodPay efficiently to offer credit solutions to these merchant SMEs.
With these three pillars, ZoodPay has created a strong, integrated ecosystem, providing great value to both consumers and merchants, as well as providing itself with valuable data and control for effective risk management.
ZoodPay ecosystem
Source: ZoodPay
Product portfolio
ZoodPay is primarily a digital lending fintech and generates revenue through three main lending products. The main economic roles of the logistics and marketplace arms of the business are to help the lending business reach lower customer acquisition costs/increase loyalty, provide richer datasets for credit history and collateralise to lower credit risk.
ZoodPay Consumer BNPL: This is an interest-free solution for consumers to buy goods in four equal instalments. The first payment is made at the time of purchase and the three remaining instalments other are paid monthly thereafter. ZoodPay monetises this service by charging a facility fee to merchants; the product is interest-free for consumers. For merchants, the attraction is a higher sales conversion ratio and better liquidity management since the fees are immediately paid by the platform. The maximum lending amount for ZoodPay BNPL is U$100 but the allowed credit limit varies based on the consumer's credit profile; for example, the loan amount is typically capped at five days' salary. Also, in contrast to other BNPL providers, the goods are typically essential basic products rather than high-end brand items or electronics. The average order value financed by ZoodPay BNPL is less than US$40. We think this is an important distinction from a risk management perspective, as it discourages indebtedness for aspirational items. Currently, consumer BNPL is generating c40% of ZoodPay's revenues. But it is mainly used to build the user credit history. The two lending products below are likely to gain substantially in importance in the future.
ZoodPay Consumer Credit: This is a longer-tenor, interest-bearing financing solution for consumers, allowing consumers to repay in up to 12 equal monthly tranches. The majority of these loans are typically underwritten by a partner bank, in which case ZoodPay obtains an introductory fee but is no longer liable for any credit risk. ZoodPay Broker connects with banks through an API, giving consumers access to the best offers from partner banks. However, for good recurring BNPL customers and for sub-US$500 loans, ZoodPay also offers such lending directly, authorised by its licenses in Pakistan and Uzbekistan. The maximum consumer credit loan amount is US$1,000, but the typical disbursement size averages cUS$250. Currently, ZoodPay Consumer Credit represents c60% of ZoodPay's revenues, with a take rate of over 28%.
ZoodPay SME Credit: This is a more recent product launch, where the company offers collateralised inventory financing to selected ZoodPay merchants. The maximum tenor for this facility is one month, and the maximum loan-to-value ratio is 80%. The company also offers chargeable value-added services, like warehousing, packing and last-mile delivery through its fulfilment centres. The maximum loan amount for this product is US$20,000. Over time, management believes this will be the biggest revenue generator for the firm.
Distribution channels
ZoodPay offers five lending distribution channels, providing customers with a user-friendly shopping experience that covers most of their spending needs.
ZoodPay Marketplace: ZoodMall is one of the five distribution channels that is being offered via the ZoodPay app. It hosts c30,000 domestic and international sellers and over 6mn products, all with easy flexible payment solutions. ZoodMall merchants also have the opportunity to advertise to help boost their visibility.
ZoodPay Merchant API: ZoodPay integrates with merchants for online payments and provides flexible payments solutions for their apps and websites at the checkout page. Currently, almost 1,000 online merchants use ZoodPay payment facilities on their apps. The firm also has exclusive partnerships with regional payments leaders such as Switch and Aps (Iraq), Uzcard and Beeline (Uzbekistan), and Internet Network and Hyperpay (Jordan).
ZoodPay Offline: In ZoodPay's markets, a significant proportion (95%) of commerce is conducted offline. To cater to this market, ZoodPay also delivers flexible payments solutions (ie in four or 12 monthly instalments) even when the transaction is carried out physically in-store. ZoodPay Offline was launched in June 2021 and, now, almost 3,000 physical stores in Uzbekistan offer this service. In January 2022, this distribution channel was also launched in Lebanon, Iraq and Jordan.
ZoodPay Card: This is another important milestone in the company's development and the expansion of its product reach in its markets. With ZoodPay prepaid instalment cards, customers can avail themselves of the firm's BNPL products wherever Mastercard cards are accepted. The firm plans to partner with local banks, which will issue physical or virtual cards that will be integrated into the ZoodPay super app.
ZoodPay Smart Lockers: This is the company's most recent distribution channel addition. ZoodPay recently acquired leading logistics company Fargo and, with its assistance, opened up a network of c1,000 pick-up lockers across Uzbekistan. ZoodPay signed exclusive partnerships with the top five leading logistics companies in Uzbekistan, accounting for more than 70% of last-mile parcel delivery, for the launch of this network of pick-up lockers. This channel is expected to significantly increase convenience for consumers, who can pay in full or opt for ZoodPay's instalment solutions directly at the locker at the time of pickup. For merchants, this facility reduces delivery costs by c50%.
ZoodPay Marketplace – a key pillar of the ZoodPay ecosystem
One of the unique aspects of ZoodPay's business model is its integrated and proprietary marketplace, ZoodMall. This provides several benefits to both merchants and consumers and gives ZoodPay end-to-end control over the entire e-commerce value chain. There are c30,000 merchants on ZoodPay's marketplace, with over 6mn products. The average order size is cUS$100.
The key benefits for merchants include i) the ability to market their products online to a wider consumer base, ii) low infrastructure costs for both direct offline and online sales and iii) cost-effective marketing of their products. For consumers, the marketplace provides a wide range of options under several product categories, with competitive pricing and flexible payment options. We think ZoodMall is a key success driver and source of competitive advantage for ZoodPay and is likely to remain a driving force for top-line growth.
ZoodPay logistics – a key component for SME financing
Logistics solutions are an important component of ZoodPay's ecosystem. These services include warehousing, fulfilment centres, pick-up points, smart lockers, etc., for merchants.
The key benefits ZoodPay drives from its logistics platform include:
Data access and control of inventory to offer credit solutions to merchants with effective risk management;

A broader suite of value-added products for merchants, increasing retention rates; and

End-to-end control of the whole e-commerce customer experience and value chain, improving service quality and enhanced fraud management.
Growth opportunity
The markets in which ZoodPay operates, and the effective execution of the firm's strategy, combined with operational excellence, open up several layers of growth for the firm.
ZoodPay operates in markets with strong growth potential
One of the most important strengths of ZoodPay is its ability to successfully operate in less sophisticated emerging markets with low levels of financial inclusion and sufficient technology penetration to enable disruption of traditional B2C business models. For example, median bank account penetration in ZoodPay's markets of operation is just 21%, compared with 76% across all emerging markets, while only 4% of adults in ZoodPay's markets borrowed from the formal sector, compared with 21% elsewhere in EM. While technology penetration also lags in ZoodPay's markets, versus elsewhere in EM, the differences are less pronounced. For example, 74% of the population is using the internet, versus 75% across all EMs.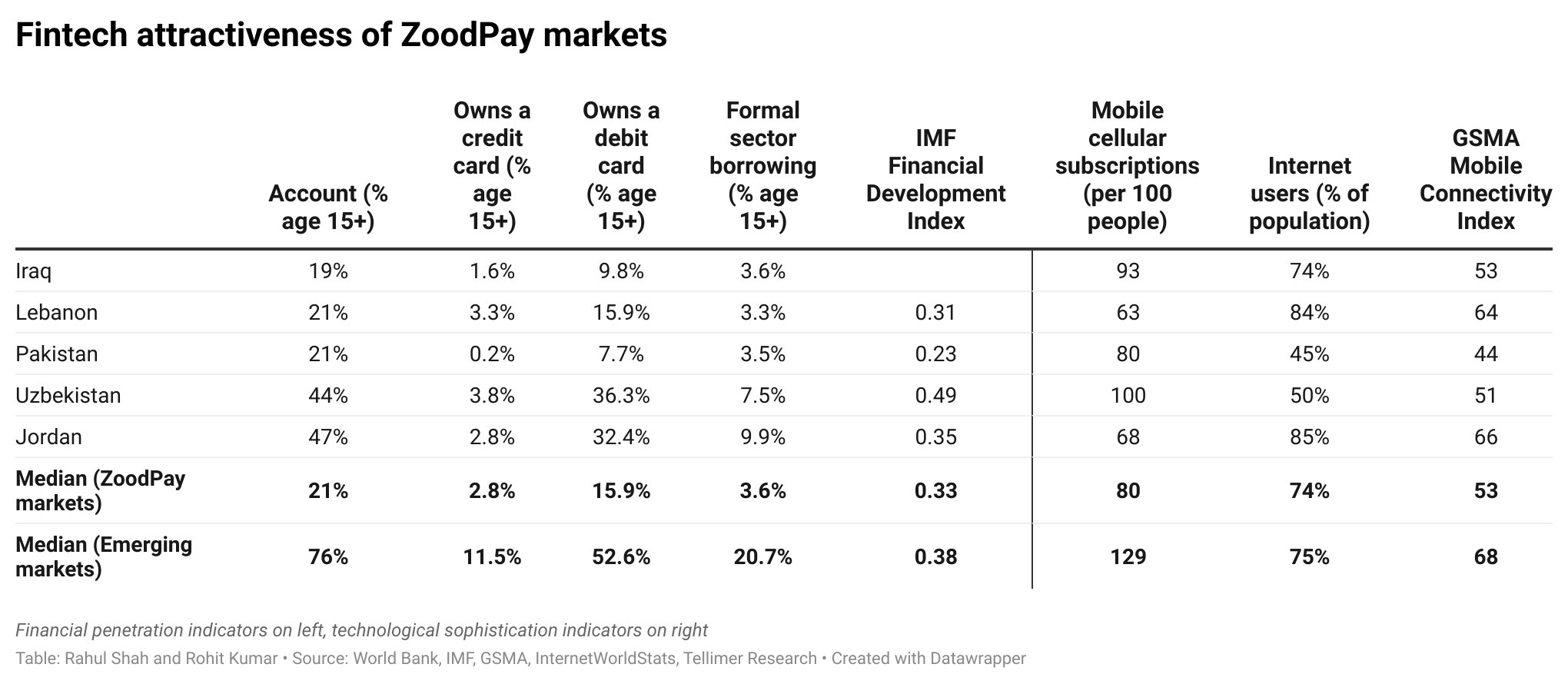 According to World Bank and Reuters data, ZoodPay's markets of operation are expected to grow strongly, with c8% pa growth in the total addressable market, from US$141bn to US$205bn. SME credit is likely to expand by 15% pa to 2026, while online commerce should grow even faster, by 20% pa.
ZoodPay's strong growth track record
ZoodPay is actively seizing its growth opportunities; revenues grew by c300% yoy in H1 2022. This growth rate is much higher than what is observed by emerging market fintech peers, with typical annual revenue growth being c25-30%. This of course may be expected, given that our fintech universe is skewed towards firms with more than two years of operations under their belts, but there are a few reasons why ZoodPay may be able to maintain its superior growth trajectory:
ZoodPay's markets are significantly underserved, therefore presenting the firm with a huge opportunity, with limited competition;

The firm's integrated ecosystem of e-commerce and lending enablement results in higher customer activity and retention;

ZoodPay's vast network of merchants and products on the marketplace gives customers myriad transacting options; and

Strong strategic partnerships with leading companies (like Zain and Mastercard) help to accelerate the growth trajectory.
The road ahead
Key growth drivers for ZoodPay will be expansion into Pakistan, and the rollout of the consumer loan and SME credit products. As a firm with a proven track record of innovation and execution, we think ZoodPay will be able to exploit and build additional growth options over time. We highlight below in broad terms how these could manifest themselves:
New markets. There are several other markets in Central Asia and the Middle East that fit ZoodPay's target profile of low financial penetration and youthful populations.

New fintech products. On the SME side, this could include working capital and invoice factoring products, which would fit naturally alongside current offerings. On the retail side, salary advances could be a potential addition. If the ZoodPay Broker consumer loan model proves successful, we believe many of these products could be outsourced to third parties, with ZoodPay controlling origination and servicing, and managing risk selection.

New marketplace products. Loyalty programmes to improve customer retention and activity levels, tools to help offline businesses transition online, and services to grow demand are all areas where ZoodPay could capture a greater share of the business opportunities in this area.

New logistics products. The rollout of smart locker facilities to other markets and partnering with physical outlets to offer pick-up points are two of the ways ZoodPay could improve the fulfilment experience for its customers. On the B2B side, the firm could open up some of its logistics core competencies to third parties, for example in warehousing, inventory management and fulfilment management.

Additional products and services. ZoodPay has already successfully entered into various joint ventures and partnerships to accelerate its development. Given its large customer base, rich knowledge about customer preferences and reputation for providing seamless, value-added services, we believe there are many service providers that would be keen to work with the firm. Provided such partnerships are complementary to its existing businesses (for example, by adding more data for credit scoring, improving the fulfilment experience or reducing customer acquisition costs), these agreements should prove additive to the business and would further enhance ZoodPay's super app credentials.

Evolution from a lending platform to a 'digital bank for e-commerce' (mirroring the Kaspi model in Kazakhstan). ZoodPay's evolution to become a 'digital bank for e-commerce' will allow it to expand its product offering, with new banking services and revenue lines. It will also create synergies that will decrease both transactional costs and customer acquisition costs. Lastly, evolving towards a digital bank will also optimise funding costs, via access to a deposit base. We think senior management is working to develop such capabilities in several countries via partnerships/joint ventures with local banks. We understand there are plans to integrate the first financial BaaS services in the ZoodPay app in Pakistan before year-end. If successful, we would expect Uzbekistan, Jordan and Iraq to follow shortly after that.
This is an abridged version of our full in-depth analysis of ZoodPay. For the complete analysis, contact clients@tellimer.com.
In preparing this report, we have been reliant on information provided to us by the company. We have been unable to independently verify much of this data.