We count 30 countries as having yields on US dollar sovereign bonds of 10% or more, or are in default, of which 23 have yields of 10% or more and seven are in default (as of 6 December – since then, one clear change is that Ghana's default means the composition will have changed, with the default count rising to eight and 22 countries yielding more than 10%, even if the overall count is unchanged). This includes index and off-index issues, so capturing Russia and Venezuela (excluded from the index) and small issues that aren't index-eligible (REPCAM 25s, REPCON 29s and GRENAD 30s).
We acknowledge that some countries on our list may have bonds on the curve that yield less than 10%; for example, we include Gabon 24s and Mongolia 24s although their longer bonds (eg Gabon 31s and Mongolia 31s) are below 10%, and, conversely, Angola which is on our list, has shorter bonds that yield less than 10%.
The number compares to 13 on our count last year (which consisted of nine with yields of 10% or more and four in default). The count has increased sharply this year amid the more challenging global financing conditions. We counted it had already risen to 27 in May.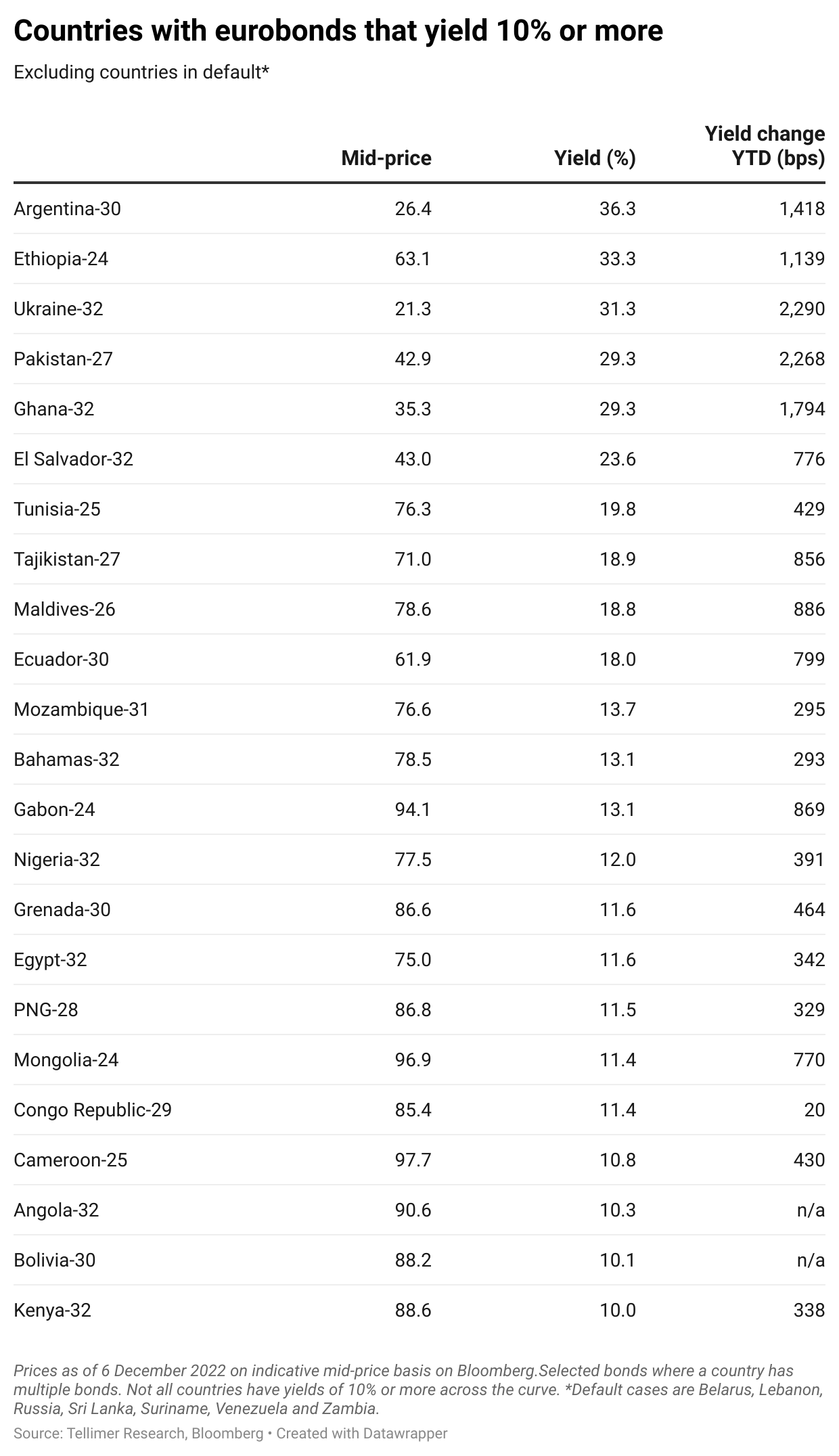 In our alternative methodology, we count 23 countries in the Bloomberg index as having yields on US dollar sovereign bonds of 10% or more, or are in default, as of 2 December (this approach, therefore, excludes smaller off-index issuers and those that are excluded from the index - it may therefore have a narrower focus, but enables easier comparison over time than our manual count); that's 32% of the index by number of countries – ie one-third of the index remains locked out of the market.
But the number of 10%-ers is now falling, from a peak of 31 in July (43% of the index) on the index methodology, and still c30 in October. The number has fallen quite sharply over the past month, following the November rally, to 25 as of end-November, and has fallen by another two since then.
Those that have exited are Gabon, Mozambique, Rwanda, Senegal, and more recently, Honduras and Iraq (Cote d'Ivoire also exited after briefly breaching the threshold).
However, it is still twice the number at the end of 2021 (when it stood at 12 on the index measure, and 13 on our separate count).
In a longer historical context, the count exceeds the amount seen during the peak of the pandemic in 2020 (21) and in the global financial crisis (GFC) over 2008 (19). However, as a share of the index, it remains much lower than during the GFC when c70% of the index was in distress on this measure (the index was much smaller then although there have been a lot of changes to the index since then which make the calculation more complicated).
We think we can be confident in saying it reached the highest share this year since the GFC.
Meanwhile, in spread terms, we count 16 countries (22% of the index) as having spreads of 1,000bps or more. This is down from a peak of 21 (29% of the index) in July and again briefly in September. It compares to eight at the end of 2021.
This report is extracted from our publication 2022 in review – annus horribilis, dated 6 December.
Related reading